Cambodia
Parliamentary constitutional monarchy
Independent since 1953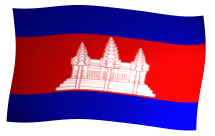 Official:
Kingdom of Cambodia
Local name:
ព្រះរាជាណាចក្រកម្ពុជា / Preăh Réachéanachâk K
Region:
Southeast Asia
Area:
181,040 km²
Capital:
Phnom Penh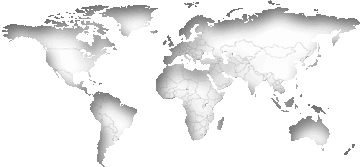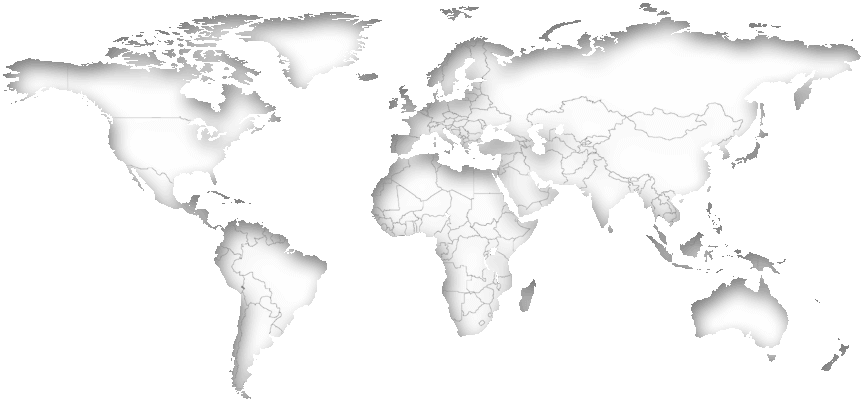 Geography
Cambodia is a country on the indochinese peninsula at the gulf of Thailand. The land has a total area of 181,040 km² (69,900 mi²) and a total coastline of 443 km (275.3 mi). This land area is approximately 88% of the area of Minnesota. Cambodia is thus the 25th biggest country in Asia and in terms of area ranked 90th worldwide. A considerable share of the inhabitants (75%) belongs to the rural population.
Cambodia is comparatively low at an average elevation of 126 meters above sea level. The highest mountain peak (Phnom Aural) is at 1,810 meters. The country has 64
islands
in the open sea. There are direct national borders with the three neighboring countries
Laos
,
Thailand
and
Vietnam
. The distance between New York City and the Capital Phnom Penh is about 14,220 km (8,836 mi).
On further pages:
Current time in Cambodia:
00:00
June 2023
The countrywide time in Cambodia is
Indochina Time (ICT)
.
As in many countries, there is no daylight savings time in Cambodia.
Related to Greenwich Mean Time, there's the same difference of 7 hours all over the year.
Sunrise and sunset
Population
Life expectancy females:
Ø 72.3 years
Males/Females:
49.5% : 50.5%
Population pyramid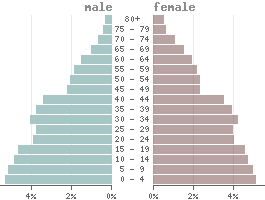 The currency in Cambodia is
the Cambodian riel (KHR).
1 Riel is divided into 10 Karak = 100 Sen.
Status: 06/01/2023
1 US dollar = 4,144.51 Riels
10.000 Riels = 2.41 US dollar
The climate in Cambodia
It is almost uniformly warm all year round. The temperature fluctuation between June and December is just four degrees. It is coolest and sunniest at about 26°C in the tourist-attractive high season in December. In April, on the other hand, it is rather unpleasant with 30°C and significantly higher humidity. From May to September, there is a distinct monsoon climate of humid sea air and heavy rainfall. Otherwise, the wind blows mostly from northern directions, bringing cooler and drier continental air from the Chinese highlands.
Average daytime and nighttime temperatures


Languages
Official language:
Khmer
Religions
State religion:
Theravada Buddhism
| Religion | Distribution |
| --- | --- |
| Buddhists | 95.9% |
| Christs | 0.4% |
| Hinduists | 1.0% |
| Muslims | 1.9% |
| other | 0.8% |
more...
Economy
Due to its political and financial situation, Cambodia is considered one of the
least developed countries
in the world.
In terms of revenues, it still ranks 149th in the world and, with an
average annual income
of 1,580 USD is one of the lower middle-income countries.
Land use
| | |
| --- | --- |
| 1% Urban areas: | 1,152 km² |
| 31% Agricultural areas: | 55,941 km² |
| 46% Forest: | 82,753 km² |
| 2% Water areas: | 4,520 km² |
| 23% Others: | 41,193 km² |
more...
Transport
| | |
| --- | --- |
| Roadways: | 47,263 km |
| Railways: | 642 km |
| Waterways: | 3,700 km |
| Commercial harbors: | 245 |
| › Airports: | 3 |
Most important cities
| City | Greater Region | Population |
| --- | --- | --- |
| Phnom Penh / Capital | Mekong Lowlands | 2,282,000 |
| Takeo | Mekong Lowlands | 844,000 |
| Sihanoukville | Cardomom and Elephant Mountains | 157,000 |
| Battambang | Cardomom and Elephant Mountains | 150,000 |
| Siem Reap | Northwest | 139,000 |
| Paôy Pêt | Northwest | 79,000 |
| Kampong Chhnang | Mekong Lowlands | 75,000 |
| Kampong Cham | Mekong Lowlands | 62,000 |
| Pursat | Cardomom and Elephant Mountains | 52,000 |
| Ta Khmau | Mekong Lowlands | 52,000 |
| Phumi Veal Sre | Mekong Lowlands | 44,000 |
| Kampong Speu | Cardomom and Elephant Mountains | 33,000 |
| Koh Kong | Cardomom and Elephant Mountains | 33,000 |
| Prey Veng | Mekong Lowlands | 33,000 |
| Stung Treng | East | 25,000 |
| Tbêng Méanchey | Northwest | 24,000 |
| Svay Rieng | Mekong Lowlands | 24,000 |
| Sisophon | Northwest | 23,000 |
| Kampot | Cardomom and Elephant Mountains | 23,000 |
| Kratié | East | 20,000 |
| Kampong Thom | Mekong Lowlands | 20,000 |
| Lumphat | East | 19,000 |
| Sâmraông | Northwest | 19,000 |
| Pailin | Cardomom and Elephant Mountains | 18,000 |
| Ban Lung | East | 17,000 |
| Krong Kep | Cardomom and Elephant Mountains | 12,000 |
| Senmonourom | East | 7,940 |
Political indicators
(Based on the "Worldwide Governance Indicators" project of the World Bank)
| | |
| --- | --- |
| Political stability: | ◈ |
| Rule of law: | ◈ |
| Effectivity: | ◈ |
| Regulatory quality: | ◈ |
| Voice accountability: | ◈ |
| Death penalty: | abolished in 1989 |
Existing trade agreements
Alliances