Member states of the Non-Aligned Movement
The Non-Aligned Movement is an alliance of states of currently 120 countries from almost all regions worldwide.
All member states comprise a total area of
54.53 million km²
and about 4.44 billion people. This is 36.1% of the habitable area around the world and 57% of the world population. With an economic output of 12,260.60 trillion US dollars annually, they represent around 14.47 percent of the global economy. The value of all exported goods of these 120 countries was 3,845.51 billion US dollars per year at last count.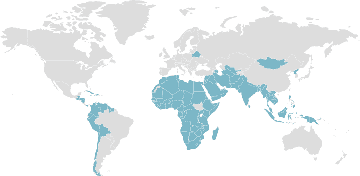 | Country | Population | Area |
| --- | --- | --- |
| Afghanistan | 38.93 M | 653,000 km² |
| Algeria | 43.85 M | 2,382,000 km² |
| Angola | 32.87 M | 1,247,000 km² |
| Antigua and Barbuda | 0.10 M | 440 km² |
| Azerbaijan | 10.09 M | 87,000 km² |
| Bahamas | 0.39 M | 14,000 km² |
| Bahrain | 1.70 M | 778 km² |
| Bangladesh | 164.69 M | 148,000 km² |
| Barbados | 0.29 M | 430 km² |
| Belarus | 9.38 M | 208,000 km² |
| Belize | 0.40 M | 23,000 km² |
| Benin | 12.12 M | 115,000 km² |
| Bhutan | 0.77 M | 38,000 km² |
| Bolivia | 11.67 M | 1,099,000 km² |
| Botswana | 2.35 M | 582,000 km² |
| Brunei | 0.44 M | 5,770 km² |
| Burkina Faso | 20.90 M | 274,000 km² |
| Burma | 54.41 M | 677,000 km² |
| Burundi | 11.89 M | 28,000 km² |
| Cambodia | 16.72 M | 181,000 km² |
| Cameroon | 26.55 M | 475,000 km² |
| Cape Verde | 0.56 M | 4,030 km² |
| Central Africa | 4.83 M | 623,000 km² |
| Chad | 16.43 M | 1,284,000 km² |
| Chile | 19.12 M | 757,000 km² |
| Colombia | 50.88 M | 1,142,000 km² |
| Comoros | 0.87 M | 1,861 km² |
| Congo | 5.52 M | 342,000 km² |
| Congo (Dem. Republic) | 89.56 M | 2,345,000 km² |
| Cuba | 11.33 M | 110,000 km² |
| Djibouti | 0.99 M | 23,000 km² |
| Dominica | 0.07 M | 750 km² |
| Dominican Republic | 10.85 M | 49,000 km² |
| Ecuador | 17.64 M | 256,000 km² |
| Egypt | 102.33 M | 1,001,000 km² |
| Equatorial Guinea | 1.40 M | 28,000 km² |
| Eritrea | 3.50 M | 118,000 km² |
| Eswatini | 1.16 M | 17,000 km² |
| Ethiopia | 114.96 M | 1,104,000 km² |
| Fiji | 0.90 M | 18,000 km² |
| Gabon | 2.23 M | 268,000 km² |
| Gambia | 2.42 M | 11,000 km² |
| Ghana | 31.07 M | 239,000 km² |
| Grenada | 0.11 M | 340 km² |
| Guatemala | 16.86 M | 109,000 km² |
| Guinea | 13.13 M | 246,000 km² |
| Guinea-Bissau | 1.97 M | 36,000 km² |
| Guyana | 0.79 M | 215,000 km² |
| Haiti | 11.40 M | 28,000 km² |
| Honduras | 9.90 M | 112,000 km² |
| India | 1,380.00 M | 3,287,000 km² |
| Indonesia | 273.52 M | 1,914,000 km² |
| Iran | 83.99 M | 1,745,000 km² |
| Iraq | 40.22 M | 435,000 km² |
| Ivory Coast | 26.38 M | 322,000 km² |
| Jamaica | 2.96 M | 11,000 km² |
| Jordan | 10.20 M | 89,000 km² |
| Kenya | 53.77 M | 580,000 km² |
| Kuwait | 4.27 M | 18,000 km² |
| Laos | 7.28 M | 237,000 km² |
| Lebanon | 6.83 M | 10,000 km² |
| Lesotho | 2.14 M | 30,000 km² |
| Liberia | 5.06 M | 111,000 km² |
| Libya | 6.87 M | 1,760,000 km² |
| Madagascar | 27.69 M | 587,000 km² |
| Malawi | 19.13 M | 118,000 km² |
| Malaysia | 32.37 M | 330,000 km² |
| Maldives | 0.54 M | 300 km² |
| Mali | 20.25 M | 1,240,000 km² |
| Mauritania | 4.65 M | 1,031,000 km² |
| Mauritius | 1.27 M | 2,040 km² |
| Mongolia | 3.28 M | 1,564,000 km² |
| Morocco | 36.91 M | 447,000 km² |
| Mozambique | 31.26 M | 786,000 km² |
| Namibia | 2.54 M | 824,000 km² |
| Nepal | 29.14 M | 147,000 km² |
| Nicaragua | 6.62 M | 130,000 km² |
| Niger | 24.21 M | 1,267,000 km² |
| Nigeria | 206.14 M | 924,000 km² |
| North Korea | 25.78 M | 121,000 km² |
| Oman | 5.11 M | 310,000 km² |
| Pakistan | 220.89 M | 796,000 km² |
| Panama | 4.31 M | 75,000 km² |
| Papua New Guinea | 8.95 M | 463,000 km² |
| Peru | 32.97 M | 1,285,000 km² |
| Philippines | 109.58 M | 300,000 km² |
| Qatar | 2.88 M | 12,000 km² |
| Rwanda | 12.95 M | 26,000 km² |
| Saint Kitts and Nevis | 0.05 M | 260 km² |
| Saint Lucia | 0.18 M | 620 km² |
| Saint Vincent and the Grenadines | 0.11 M | 390 km² |
| Sao Tome and Principe | 0.22 M | 960 km² |
| Saudi Arabia | 34.81 M | 2,150,000 km² |
| Senegal | 16.74 M | 197,000 km² |
| Seychelles | 0.10 M | 460 km² |
| Sierra Leone | 7.98 M | 72,000 km² |
| Singapore | 5.69 M | 719 km² |
| Somalia | 15.89 M | 638,000 km² |
| South Africa | 59.31 M | 1,219,000 km² |
| Sri Lanka | 21.92 M | 66,000 km² |
| Sudan | 43.85 M | 1,879,000 km² |
| Suriname | 0.59 M | 164,000 km² |
| Syria | 17.50 M | 185,000 km² |
| Tanzania | 59.73 M | 947,000 km² |
| Thailand | 69.80 M | 513,000 km² |
| Timor-Leste | 1.32 M | 15,000 km² |
| Togo | 8.28 M | 57,000 km² |
| Trinidad and Tobago | 1.40 M | 5,130 km² |
| Tunisia | 11.82 M | 164,000 km² |
| Turkmenistan | 6.03 M | 488,000 km² |
| Uganda | 45.74 M | 242,000 km² |
| United Arab Emirates | 9.89 M | 84,000 km² |
| Uzbekistan | 34.23 M | 447,000 km² |
| Vanuatu | 0.31 M | 12,000 km² |
| Venezuela | 28.44 M | 912,000 km² |
| Vietnam | 97.34 M | 331,000 km² |
| West Bank | 4.80 M | 6,020 km² |
| Yemen | 29.83 M | 528,000 km² |
| Zambia | 18.38 M | 753,000 km² |
| Zimbabwe | 14.86 M | 391,000 km² |