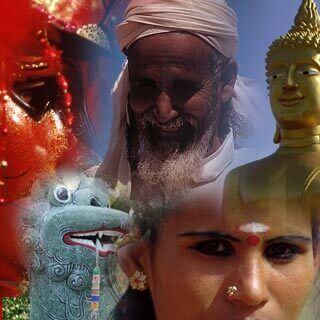 Official state religions
A state religion exists in numerous countries, although the forms are quite different. Currently, no country goes so far as to actually mandate religion. However, only a few faiths will receive active support - in most cases, only one.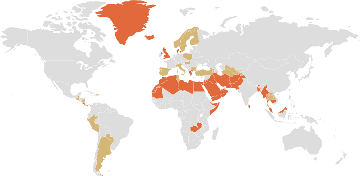 Countries with constitutional state religion Countries with public reference to a religion or church
Characteristics of of state religions
Essentially, there are 3 different types of a state denomination:
Positioning to a religion
In all countries that specify a particular religion in their constitution today, freedom of religion prevails. Nevertheless, the state takes a stand in its constitution and sides with an individual denomination. This is usually for historical reasons, when a religion clearly predominates in the country and has shaped society over many generations. However, this form does not go beyond a mere mention of the religion, which is why it is not usually referred to as a "state religion".
Preference for one religion
In the next stage, one religion is actually favored. Here, religious institutions are supported organizationally and ideally, as well as financially, while other religions do not receive this preference. In most of these countries, the head of state himself must profess this religion.
Unity of state and religion
The clearest form of a state religion or state church turns into a theocracy, i.e., an inseparable connection between church and state. The state is run according to religious aspects and, through this identification, also determines laws and social rules. A free choice of religion may still exist, but the state takes on the task of actively promoting a religion and defending it against outside influences. It is not uncommon for the head of state to also be the head of the respective church.
Countries with official state religion
Countries only with confession
The differentiation between the individual characteristics is often not easy. Individual characteristics are often found in different degrees. For example, the king of the United Kingdom is also the head of the Church of England (not the rest of Great Britain). However, there is no theocratic government.
Moreover, even a regional limitation to entire states is not always possible. While most of Russia belongs to the Russian Orthodox Church and considers itself a secular state, subordinate republics are free to set their own priorities. For example, the government of the Russian Republic of Kalmykia supports and promotes Buddhism. England and Scotland, as parts of the United Kingdom, also have different preferences.
The situation is more complex in countries such as China, Indonesia, Switzerland and Luxembourg. Here, from a constitutional point of view, there is no state religion and no single denomination is preferred. Instead, these countries recognize several different churches or religions and ignore others entirely. Singapore recognizes 10 religions, China 5, and Lebanon 18. In Switzerland, most of the 26 cantons support both the Swiss Reformed Church and the Roman Catholic Church.