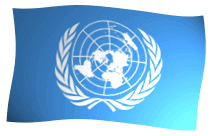 Member states of the UN
United Nations
The UN is an alliance of states with currently 193 member states from all regions of the world. The United Nations is a global organization whose tasks consist of securing peace and protecting human and international rights.

All member states together cover an area of 133.81 million km² and 7.84 billion people. This is 88.53 percent of the world's inhabitable area and 99.45 percent of the world's population.


Official website: https://www.un.org/en/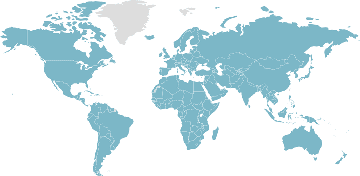 | Country | Commencement | Population | Area |
| --- | --- | --- | --- |
| Afghanistan | 1946 | 40.10 M | 653,000 km² |
| Albania | 1955 | 2.81 M | 29,000 km² |
| Algeria | 1962 | 44.18 M | 2,382,000 km² |
| Andorra | 1993 | 0.08 M | 470 km² |
| Angola | 1976 | 34.50 M | 1,247,000 km² |
| Antigua and Barbuda | 1981 | 0.09 M | 440 km² |
| Argentina | 1945 | 45.81 M | 2,780,000 km² |
| Armenia | 1992 | 2.79 M | 30,000 km² |
| Australia | 1945 | 25.69 M | 7,741,000 km² |
| Austria | 1955 | 8.96 M | 84,000 km² |
| Azerbaijan | 1992 | 10.14 M | 87,000 km² |
| Bahamas | 1973 | 0.41 M | 14,000 km² |
| Bahrain | 1971 | 1.46 M | 778 km² |
| Bangladesh | 1974 | 169.36 M | 148,000 km² |
| Barbados | 1966 | 0.28 M | 430 km² |
| Belarus | 1945 | 9.34 M | 208,000 km² |
| Belgium | 1945 | 11.59 M | 31,000 km² |
| Belize | 1981 | 0.40 M | 23,000 km² |
| Benin | 1960 | 13.00 M | 115,000 km² |
| Bhutan | 1971 | 0.78 M | 38,000 km² |
| Bolivia | 1945 | 12.08 M | 1,099,000 km² |
| Bosnia and Herzegovina | 1992 | 3.27 M | 51,000 km² |
| Botswana | 1966 | 2.59 M | 582,000 km² |
| Brazil | 1945 | 214.33 M | 8,516,000 km² |
| Brunei | 1984 | 0.45 M | 5,770 km² |
| Bulgaria | 1955 | 6.88 M | 111,000 km² |
| Burkina Faso | 1960 | 22.10 M | 274,000 km² |
| Burundi | 1962 | 12.55 M | 28,000 km² |
| Cambodia | 1955 | 16.59 M | 181,000 km² |
| Cameroon | 1960 | 27.20 M | 475,000 km² |
| Canada | 1945 | 38.25 M | 9,985,000 km² |
| Cape Verde | 1975 | 0.59 M | 4,030 km² |
| Central Africa | 1960 | 5.46 M | 623,000 km² |
| Chad | 1960 | 17.18 M | 1,284,000 km² |
| Chile | 1945 | 19.49 M | 757,000 km² |
| China | 1971 | 1,412.36 M | 9,563,000 km² |
| Colombia | 1945 | 51.52 M | 1,142,000 km² |
| Comoros | 1975 | 0.82 M | 1,861 km² |
| Congo | 1960 | 5.84 M | 342,000 km² |
| Congo (Dem. Republic) | 1960 | 95.89 M | 2,345,000 km² |
| Costa Rica | 1945 | 5.15 M | 51,000 km² |
| Croatia | 1992 | 3.90 M | 57,000 km² |
| Cuba | 1945 | 11.26 M | 110,000 km² |
| Cyprus | 1960 | 1.24 M | 9,250 km² |
| Czechia | 1993 | 10.51 M | 79,000 km² |
| Denmark | 1945 | 5.86 M | 43,000 km² |
| Djibouti | 1977 | 1.11 M | 23,000 km² |
| Dominica | 1978 | 0.07 M | 750 km² |
| Dominican Republic | 1945 | 11.12 M | 49,000 km² |
| Ecuador | 1945 | 17.80 M | 256,000 km² |
| Egypt | 1945 | 109.26 M | 1,001,000 km² |
| El Salvador | 1945 | 6.31 M | 21,000 km² |
| Equatorial Guinea | 1968 | 1.63 M | 28,000 km² |
| Eritrea | 1993 | 3.62 M | 118,000 km² |
| Estonia | 1991 | 1.33 M | 45,000 km² |
| Eswatini | 1968 | 1.19 M | 17,000 km² |
| Ethiopia | 1945 | 120.28 M | 1,104,000 km² |
| Fiji | 1970 | 0.92 M | 18,000 km² |
| Finland | 1955 | 5.54 M | 338,000 km² |
| France | 1945 | 67.75 M | 549,000 km² |
| Gabon | 1960 | 2.34 M | 268,000 km² |
| Gambia | 1965 | 2.64 M | 11,000 km² |
| Georgia | 1992 | 3.71 M | 70,000 km² |
| Germany | 1973 | 83.20 M | 358,000 km² |
| Ghana | 1957 | 32.83 M | 239,000 km² |
| Greece | 1945 | 10.64 M | 132,000 km² |
| Grenada | 1974 | 0.12 M | 340 km² |
| Guatemala | 1945 | 17.11 M | 109,000 km² |
| Guinea | 1958 | 13.53 M | 246,000 km² |
| Guinea-Bissau | 1974 | 2.06 M | 36,000 km² |
| Guyana | 1966 | 0.80 M | 215,000 km² |
| Haiti | 1945 | 11.45 M | 28,000 km² |
| Honduras | 1945 | 10.28 M | 112,000 km² |
| Hungary | 1955 | 9.71 M | 93,000 km² |
| Iceland | 1946 | 0.37 M | 103,000 km² |
| India | 1945 | 1,407.56 M | 3,287,000 km² |
| Indonesia | 1950 | 273.75 M | 1,914,000 km² |
| Iran | 1945 | 87.92 M | 1,745,000 km² |
| Iraq | 1945 | 43.53 M | 435,000 km² |
| Ireland | 1955 | 5.03 M | 70,000 km² |
| Israel | 1949 | 9.36 M | 22,000 km² |
| Italy | 1955 | 59.11 M | 301,000 km² |
| Ivory Coast | 1960 | 27.48 M | 322,000 km² |
| Jamaica | 1962 | 2.83 M | 11,000 km² |
| Japan | 1956 | 125.68 M | 378,000 km² |
| Jordan | 1955 | 11.15 M | 89,000 km² |
| Kazakhstan | 1992 | 19.00 M | 2,725,000 km² |
| Kenya | 1963 | 53.01 M | 580,000 km² |
| Kiribati | 1999 | 0.13 M | 810 km² |
| Kuwait | 1963 | 4.25 M | 18,000 km² |
| Kyrgyzstan | 1992 | 6.69 M | 200,000 km² |
| Laos | 1955 | 7.43 M | 237,000 km² |
| Latvia | 1991 | 1.88 M | 64,000 km² |
| Lebanon | 1945 | 5.59 M | 10,000 km² |
| Lesotho | 1966 | 2.28 M | 30,000 km² |
| Liberia | 1945 | 5.19 M | 111,000 km² |
| Libya | 1955 | 6.74 M | 1,760,000 km² |
| Liechtenstein | 1990 | 0.04 M | 161 km² |
| Lithuania | 1991 | 2.80 M | 65,000 km² |
| Luxembourg | 1945 | 0.64 M | 2,590 km² |
| Madagascar | 1960 | 28.92 M | 587,000 km² |
| Malawi | 1964 | 19.89 M | 118,000 km² |
| Malaysia | 1957 | 33.57 M | 330,000 km² |
| Maldives | 1965 | 0.52 M | 300 km² |
| Mali | 1960 | 21.90 M | 1,240,000 km² |
| Malta | 1964 | 0.52 M | 320 km² |
| Marshall Islands | 1991 | 0.04 M | 181 km² |
| Mauritania | 1961 | 4.61 M | 1,031,000 km² |
| Mauritius | 1968 | 1.27 M | 2,040 km² |
| Mexico | 1945 | 126.71 M | 1,964,000 km² |
| Micronesia | 1991 | 0.11 M | 700 km² |
| Moldova | 1992 | 2.62 M | 34,000 km² |
| Monaco | 1993 | 0.04 M | 2 km² |
| Mongolia | 1961 | 3.35 M | 1,564,000 km² |
| Montenegro | 2006 | 0.62 M | 14,000 km² |
| Morocco | 1956 | 37.08 M | 447,000 km² |
| Mozambique | 1975 | 32.08 M | 786,000 km² |
| Myanmar | 1948 | 53.80 M | 677,000 km² |
| Namibia | 1990 | 2.53 M | 824,000 km² |
| Nauru | 1999 | 0.01 M | 21 km² |
| Nepal | 1955 | 30.03 M | 147,000 km² |
| Netherlands | 1945 | 17.53 M | 42,000 km² |
| New Zealand | 1945 | 5.12 M | 268,000 km² |
| Nicaragua | 1945 | 6.85 M | 130,000 km² |
| Niger | 1960 | 25.25 M | 1,267,000 km² |
| Nigeria | 1960 | 213.40 M | 924,000 km² |
| North Korea | 1991 | 25.97 M | 121,000 km² |
| North Macedonia | 1993 | 2.07 M | 26,000 km² |
| Norway | 1945 | 5.41 M | 385,000 km² |
| Oman | 1971 | 4.52 M | 310,000 km² |
| Pakistan | 1947 | 231.40 M | 796,000 km² |
| Palau | 1994 | 0.02 M | 460 km² |
| Panama | 1945 | 4.35 M | 75,000 km² |
| Papua New Guinea | 1975 | 9.95 M | 463,000 km² |
| Paraguay | 1945 | 6.70 M | 407,000 km² |
| Peru | 1945 | 33.72 M | 1,285,000 km² |
| Philippines | 1945 | 113.88 M | 300,000 km² |
| Poland | 1945 | 37.75 M | 313,000 km² |
| Portugal | 1955 | 10.33 M | 92,000 km² |
| Qatar | 1971 | 2.69 M | 12,000 km² |
| Romania | 1955 | 19.12 M | 238,000 km² |
| Russia | 1991 | 143.45 M | 17,098,000 km² |
| Rwanda | 1962 | 13.46 M | 26,000 km² |
| Saint Kitts and Nevis | 1983 | 0.05 M | 260 km² |
| Saint Lucia | 1979 | 0.18 M | 620 km² |
| Saint Vincent and the Grenadines | 1980 | 0.10 M | 390 km² |
| Samoa | 1976 | 0.22 M | 2,840 km² |
| San Marino | 1992 | 0.03 M | 61 km² |
| Sao Tome and Principe | 1975 | 0.22 M | 960 km² |
| Saudi Arabia | 1945 | 35.95 M | 2,150,000 km² |
| Senegal | 1960 | 16.88 M | 197,000 km² |
| Serbia | 2000 | 6.83 M | 88,000 km² |
| Seychelles | 1976 | 0.10 M | 460 km² |
| Sierra Leone | 1961 | 8.42 M | 72,000 km² |
| Singapore | 1965 | 5.45 M | 719 km² |
| Slovakia | 1993 | 5.45 M | 49,000 km² |
| Slovenia | 1992 | 2.11 M | 21,000 km² |
| Solomon Islands | 1978 | 0.71 M | 29,000 km² |
| Somalia | 1960 | 17.07 M | 638,000 km² |
| South Africa | 1945 | 59.39 M | 1,219,000 km² |
| South Korea | 1991 | 51.74 M | 100,000 km² |
| South Sudan | 2011 | 10.75 M | 644,000 km² |
| Spain | 1955 | 47.42 M | 506,000 km² |
| Sri Lanka | 1955 | 22.16 M | 66,000 km² |
| Sudan | 1956 | 45.66 M | 1,879,000 km² |
| Suriname | 1975 | 0.61 M | 164,000 km² |
| Sweden | 1946 | 10.42 M | 447,000 km² |
| Switzerland | 2002 | 8.70 M | 41,000 km² |
| Syria | 1945 | 21.32 M | 185,000 km² |
| Tajikistan | 1992 | 9.75 M | 141,000 km² |
| Tanzania | 1964 | 63.59 M | 947,000 km² |
| Thailand | 1946 | 71.60 M | 513,000 km² |
| Timor-Leste | 2002 | 1.32 M | 15,000 km² |
| Togo | 1960 | 8.64 M | 57,000 km² |
| Tonga | 1999 | 0.11 M | 750 km² |
| Trinidad and Tobago | 1962 | 1.53 M | 5,130 km² |
| Tunisia | 1956 | 12.26 M | 164,000 km² |
| Turkey | 1945 | 84.78 M | 785,000 km² |
| Turkmenistan | 1992 | 6.34 M | 488,000 km² |
| Tuvalu | 2000 | 0.01 M | 26 km² |
| Uganda | 1962 | 45.85 M | 242,000 km² |
| Ukraine | 1945 | 43.79 M | 604,000 km² |
| United Arab Emirates | 1971 | 9.37 M | 84,000 km² |
| United Kingdom | 1945 | 67.33 M | 244,000 km² |
| United States | 1945 | 331.89 M | 9,832,000 km² |
| Uruguay | 1945 | 3.43 M | 176,000 km² |
| Uzbekistan | 1992 | 34.92 M | 447,000 km² |
| Vanuatu | 1981 | 0.32 M | 12,000 km² |
| Venezuela | 1945 | 28.20 M | 912,000 km² |
| Vietnam | 1977 | 97.47 M | 331,000 km² |
| Yemen | 1947 | 32.98 M | 528,000 km² |
| Zambia | 1964 | 19.47 M | 753,000 km² |
| Zimbabwe | 1980 | 15.99 M | 391,000 km² |
Fields of activity
As an association of practically all states and their territories, the UN is primarily concerned with the observance of world peace, human rights and international law. These predominantly humanitarian goals of the international governmental organization are discussed in the UN General Assembly and recommendations are made to the states concerned. If a country does not comply with these decisions, recommendations for sanctions or embargoes against the affected state can also be made to other countries. This instrument can be quite frightening in combination with UN Security Council resolutions that are binding under international law and the deployment of UN peacekeeping forces (blue helmets).
Other organs of the UN are the International Court of Justice in The Hague, the UN Security Council and the UN Economic and Social Council. There are also a number of subordinate councils, programs and specialized agencies. The headquarters is located in New York City. Important representations are also located in Geneva, Vienna and Nairobi. It is financed by contributions from the member countries, i.e., ultimately from their taxpayers.
Non-members of the United Nations
With 193 member states and their additionally dependent external territories, it would almost be easier to list only the countries that are not members. These are the following countries or territories:
Northern Cyprus is actually a Turkish republic according to all UN member states. Turkey does not recognize Northern Cyprus.
Taiwan is claimed by China and was a regular member of the UN until 1971. Due to foreign policy constraints with China several states were forced to no longer recognize Taiwan and to consider it part of China in the future.
The status of Western Sahara under international law has not yet been clarified. There are still disputes between Morocco and the Sahrawis that do not currently allow recognition as an independent country.
The status of Kosovo under international law is also still controversial. Although more than half of the UN members now recognize Kosovo as a sovereign state, it is still under the administrative jurisdiction of the United Nations.
Vatican City and Palestine have the role of permanent observer. They are treated as members, but have no voting rights in the General Assembly.
The Cook Islands, Niue and Northern Mariana Islands are smaller Pacific island states with a total population of less than 70,000. They are freely associated with New Zealand and the USA respectively, but are monitored by the UN.
Curaçao is an island in the Caribbean and has actually become a sovereign state since the dissolution of the Netherlands Antilles in 2010. It is considered an "independent country within the Kingdom of the Netherlands" by the United Nations.
Dependent territories
Some of the above-mentioned member states have other external territories dependent on them. These are not independent states, but they do have some economic and political autonomy. The UN treaties apply to them at least in part. These countries are not listed as official member states.