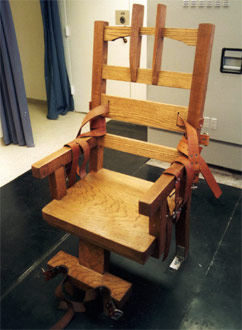 Death penalties by country
In 93 countries, there is a death penalty imposed by law. Of these, 8 countries apply the death penalty only to particularly serious crimes such as, war crimes. It has also been discontinued in 28 countries for at least 10 years - although there can still be penalties with pending executions.

In 2019 alone, 3300 people were sentenced to death and at least 1671 were actually executed. In addition, there is a larger number of unreported cases from individual countries, which cannot be estimated due to government restrictions.
Death penalties by country in 2019
no death penalty
only on serious crimes
death penatly abolished in practice
death penalty imposed and enforced
The following table contains the countries where a death penalty was legally possible in 2019. All data are provided by
Amnesty International
, where only registered and evaluated cases have been listed.
Types of executions
Executions always depend on the laws of the country in question. The most common species since the turn of the millennium:
Electric chair (mainly in the USA)
Decapitation (mainly in Saudi Arabia)
Hanging (mainly Muslim countries, as well as Japan and Singapore)
Shooting (USA, China, North Korea, Somalia, Vietnam, etc.)
Stoning to death (due to the Islamic Sharia in Afghanistan, Iran, Sudan, Nigeria, Somalia)
Lethal injection or gas chamber (China, USA, Thailand, etc.)