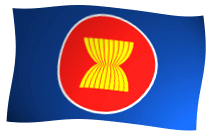 Members of the ASEAN:
Association of Southeast Asian Nations
ASEAN is a trade agreement with currently 10 member states in Southeast Asia with the aim of working together both economically and politically. The seat is currently in Singapore. The model for the economic area was, among others, the European Union.

The predecessor of ASEAN, which was founded on August 8, 1967, was the ASA Association (1961-1967).

All member states together cover an area of 4.49 million km² and around 673.33 million people. This corresponds to 3.0% of the world's inhabitable area and 8.6% of the world's population. ASEAN is thus larger than the European Union. In terms of area, population and gross domestic product, Indonesia is by far the largest and thus most influential member state.


Official website: https://asean.org/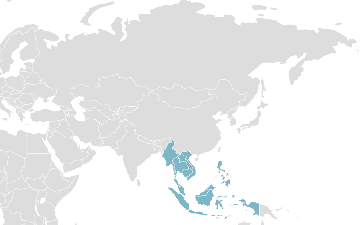 | Country | Commencement | Population | Area | GDP |
| --- | --- | --- | --- | --- |
| Brunei | 1984 | 0.44 M | 5,770 km² | 14.01 bn US$ |
| Burma | 1997 | 54.81 M | 677,000 km² | 65.07 bn US$ |
| Cambodia | 1999 | 16.95 M | 181,000 km² | 26.96 bn US$ |
| Indonesia | 1967 | 276.36 M | 1,914,000 km² | 1,186.09 bn US$ |
| Laos | 1997 | 7.38 M | 237,000 km² | 18.83 bn US$ |
| Malaysia | 1967 | 32.78 M | 330,000 km² | 372.70 bn US$ |
| Philippines | 1967 | 111.05 M | 300,000 km² | 394.09 bn US$ |
| Singapore | 1967 | 5.45 M | 719 km² | 396.99 bn US$ |
| Thailand | 1967 | 69.95 M | 513,000 km² | 505.98 bn US$ |
| Vietnam | 1995 | 98.17 M | 331,000 km² | 362.64 bn US$ |
ASEAN Economic Community
Outside of Asia, the ASEAN grouping comes to the fore mainly because of its various economic communities. Under the "ASEAN Economic Community", several agreements between the partner countries are managed, which connect large parts of the Asian economy. First and foremost, the ASEAN Free Trade Area "AFTA" enables member states to remove tariff barriers on an extensive level. In total, around 98% of all tariffs between the member states are abolished or at least reduced. This initiative goes back to a decision taken in Manila in 1992 to reduce tariffs on initially only 15 product groups vis-à-vis non-members. At that time, trade among members was only 15%.
There are also several different agreements between the members in which numerous ASEAN member states also participate in order to strengthen the economic community:
ARF ("ASEAN Regional Forum") for security
AFTA ("ASEAN Free Trade Area") for a free trade zone
AIA ("ASEAN Investment Area") for direct investment
Chairmanship and decision-making
While the individual organs of ASEAN are officially headquartered in Jakarta (Indonesia), the chairmanship rotates annually according to a predetermined pattern. Thus, within a 10-year period, each member holds the chairmanship once, at which time the summit conference is also held. In addition, there are well over a dozen ministerial meetings each year, each with subordinate committees and working groups. Overall, there are numerous parallels to the EU. What differs, however, is that the decisions of the Community are not supranational, i.e. they do not force member countries to implement them involuntarily.