Members of the EFTA:
European Free Trade Association
The EFTA is a trade agreement of currently 4 countries in Northern Europe and in Western Europe.
All member states comprise a total area of
530,000 km²
and about 14.52 million people. This is 0.35% of the habitable area around the world and 0.19% of the world population. With an economic output of 1,327.19 billion US dollars annually, they represent around 1.4 percent of the global economy. The value of all exported goods of these 4 countries was 776.04 billion US dollars per year at last count.
Official website:
https://www.efta.int/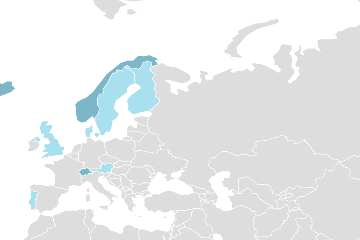 | Country | Commencement | Population | Area | GDP |
| --- | --- | --- | --- | --- |
| Iceland | 1970 | 0.37 M | 103,000 km² | 25.46 bn US$ |
| Liechtenstein | 1991 | 0.04 M | 161 km² | 6.43 bn US$ |
| Norway | 1960 | 5.41 M | 385,000 km² | 482.44 bn US$ |
| Switzerland | 1960 | 8.70 M | 41,000 km² | 812.87 bn US$ |
Former member countries