Norway
Parliamentary constitutional monarchy
Independent since 1905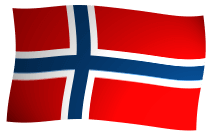 Official:
Kingdom of Norway
Local name:
Norge
Region:
Northern Europe
Area:
385,203 km²
Capital:
Oslo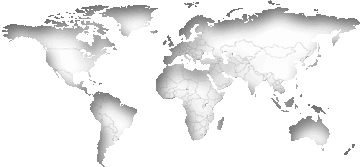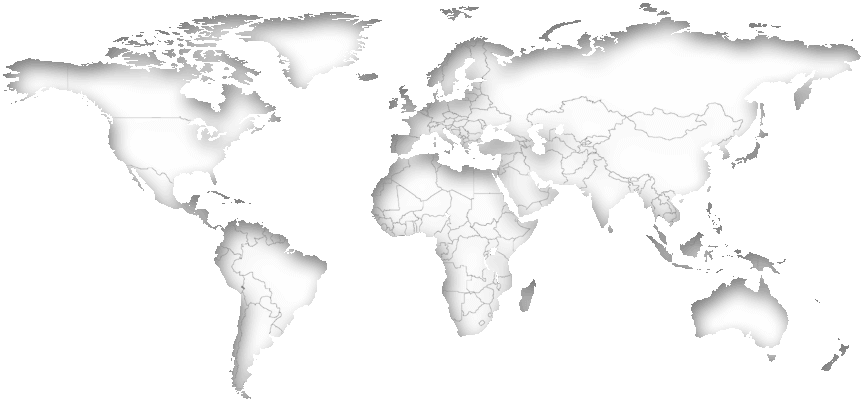 Geography
Norway is a Nordic country on the Scandinavian Peninsula. The land has a total area of 385,203 km² (148,728 mi²) and a total coastline of 25,148 km (15,626.2 mi). This land area is approximately 95% of the area of California. Norway is thus one of the largest countries in Europe and the 62nd biggest in the world. With 14 inhabitants per km² it is one of the most sparsely populated countries on earth. An exceptionally high proportion of residents (83%) belongs to the urban population. Around one in nine residents lives in Oslo alone.
Norway is comparatively low at an average elevation of 460 meters above sea level. The highest mountain peak (Galdhøpiggen) is at 2,469 meters. The country has 239,057 mostly uninhabited
islands
in the open sea. There are direct national borders with the three neighboring countries
Finland
,
Sweden
and
Russia
. The distance between New York City and the Capital Oslo is about 5,920 km (3,679 mi).
On further pages:
Population
Life expectancy females:
Ø 84.9 years
Males/Females:
50.4% : 49.6%
Population pyramid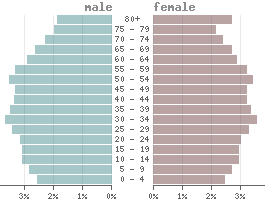 The currency in Norway is
the Norwegian krone (NOK).
1 Krone is divided into 100 Øre.
Status: 05/29/2023
1 US dollar = 11.11 Krones
100 Krones = 9.00 US dollar
The climate in Norway
With a north-south extension of over 1,750 km, Norway is crossed by several climate zones. In the province of Finnmark in the northeast, the average annual temperature is just 3°C. Winters in this subpolar zone are snowy, long and cold. The west coast, on the other hand, has a much milder climate, favored by the warm North Atlantic current. Here the average summer temperature is 17°C, but in autumn there is high precipitation. The interior south-east of the Scandinavian mountain range, on the other hand, is more continental in character and receives much less precipitation. Due to the lack of maritime influence, it is warmer here in summer, but colder in the winter.
Average daytime and nighttime temperatures


Languages
Official language:
Norwegian
Religions
State religion:
Norwegian Church (Evangelical Lutheran)
| Religion | Distribution |
| --- | --- |
| Lutherans | 82.1% |
| Roman Catholics | 1.8% |
| other Christs | 3.9% |
| Muslims | 2.3% |
| other | 9.9% |
more...
Economy
With a Human Development Index (HDI) of 0.961, Norway counts as one of the high developed economies by UN definition. The IMF also shares this classification.
Considering the purchasing power parity, Norway is among the 10
richest countries
in the world and, with an
average annual income
of 83,880 USD is one of the high-income countries.
Land use
| | |
| --- | --- |
| 5% Urban areas: | 20,282 km² |
| 3% Agricultural areas: | 10,400 km² |
| 33% Forest: | 128,504 km² |
| 5% Water areas: | 20,080 km² |
| 59% Others: | 226,017 km² |
more...
Transport
| | |
| --- | --- |
| Roadways: | 94,902 km |
| Railways: | 4,200 km |
| Waterways: | 1,577 km |
| Commercial harbors: | 1,644 |
| › Airports: | 48 |
Most important cities
| City | Province | Population |
| --- | --- | --- |
| Oslo / Capital | Oslo | 681,000 |
| Bergen | Vestland | 266,000 |
| Trondheim | Trøndelag | 178,000 |
| Stavanger | Rogaland | 128,000 |
| Drammen | Viken | 91,000 |
| Fredrikstad | Viken | 73,000 |
| Kristiansand | Agder | 64,000 |
| Sandnes | Rogaland | 63,000 |
| Tromsø | Troms og Finnmark | 52,000 |
| Sarpsborg | Viken | 52,000 |
| Skien | Vestfold og Telemark | 51,000 |
| Ålesund | Møre og Romsdal | 44,000 |
| Sandefjord | Vestfold og Telemark | 43,000 |
| Haugesund | Rogaland | 40,000 |
| Tønsberg | Vestfold og Telemark | 39,000 |
| Moss | Viken | 34,000 |
| Porsgrunn | Vestfold og Telemark | 34,000 |
| Bodø | Nordland | 34,000 |
| Arendal | Agder | 31,000 |
| Hamar | Innlandet | 29,000 |
| Steinkjer | Trøndelag | 20,000 |
| Harstad | Troms og Finnmark | 19,000 |
| Lillehammer | Innlandet | 19,000 |
| Molde | Møre og Romsdal | 19,000 |
| Mo i Rana | Nordland | 18,000 |
Political indicators
(Based on the "Worldwide Governance Indicators" project of the World Bank)
| | |
| --- | --- |
| Political stability: | ◈ |
| Rule of law: | ◈ |
| Effectivity: | ◈ |
| Regulatory quality: | ◈ |
| Voice accountability: | ◈ |
| Death penalty: | abolished in 1979 |
Existing trade agreements
Alliances
Dependent territories