Members of the SAARC:
South Asian Association for Regional Cooperation
The SAARC is a trade agreement of currently 8 countries in South Asia.
All member states comprise a total area of
5.14 million km²
and about 1.88 billion people. This is 3.4% of the habitable area around the world and 24% of the world population. With an economic output of 4,084.13 billion US dollars annually, they represent around 4.2 percent of the global economy. The value of all exported goods of these 8 countries was 749.87 billion US dollars per year at last count.
Official website:
https://www.saarc-sec.org/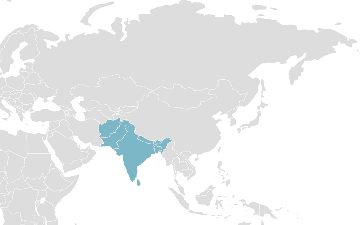 | Country | Commencement | Population | Area | GDP |
| --- | --- | --- | --- | --- |
| Afghanistan | 2007 | 39.84 M | 653,000 km² | 20.12 bn US$ |
| Bangladesh | 1985 | 166.30 M | 148,000 km² | 416.26 bn US$ |
| Bhutan | 1985 | 0.78 M | 38,000 km² | 2.32 bn US$ |
| India | 1985 | 1,393.41 M | 3,287,000 km² | 3,173.40 bn US$ |
| Maldives | 1985 | 0.54 M | 300 km² | 4.89 bn US$ |
| Nepal | 1985 | 29.67 M | 147,000 km² | 36.29 bn US$ |
| Pakistan | 1985 | 225.20 M | 796,000 km² | 346.34 bn US$ |
| Sri Lanka | 1985 | 22.16 M | 66,000 km² | 84.52 bn US$ |