Bhutan
constitutional monarchy
independant since 1910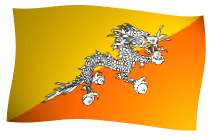 Region:
South Asia
Area:
38,394 km²
Local name:
འབྲུག་ཡུལ་ Dzongkha
Capital:
Thimphu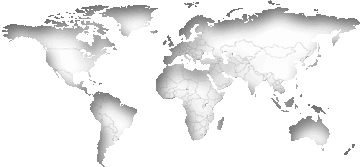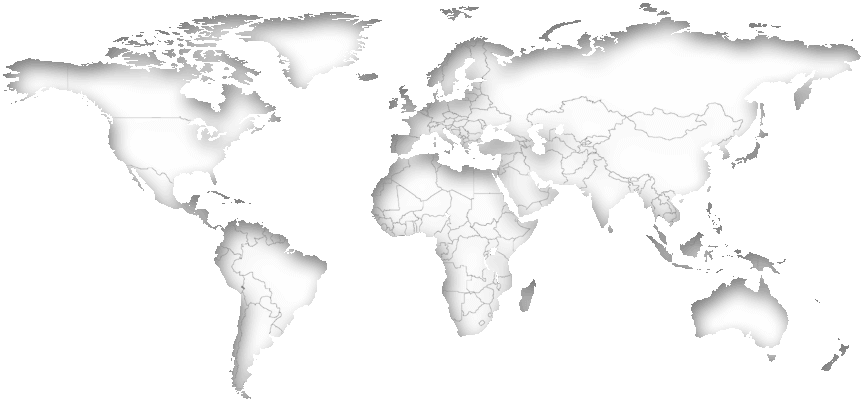 Geography
Bhutan is a landlocked country in South Asia, south of Tibet. The land has a total area of 38,394 km² (14,824 mi²). This land area is approximately 153% of the area of Maryland. Bhutan is thus one of the smallest countries in Asia by area and ranked 137th worldwide. Only slightly Less than half of all residents (42%) live within cities.
With an average elevation of only 3 m above sea level, Bhutan is one of the lowest-lying countries in the world. The highest mountain peak (Gangkhar Puensum) is at 7,570 meters. There is no access to the open sea. There are direct national borders with the 2 neighbouring countries
China
and
India
. The distance between New York City and the Capital Thimphu is about 12,260 km (7,618 mi).
On further pages:
Current time in Bhutan:
00:00
June 2022
The countrywide time in Bhutan is
Bhutan Time (BTT)
.
As in many countries, there is no daylight saving time in Bhutan.
Related to Greenwich Mean Time, there's the same difference of 6 hours all over the year.
Sunrise and sunset
Population
Life expectancy females:
Ø 72.5 years
Males/Females:
53.1% : 46.9%
Population pyramid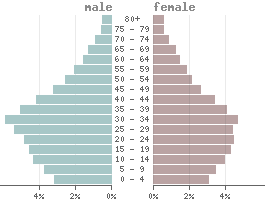 The currency in Bhutan is
the Ngultrum (BTN).
1 Ngultrum is divided into 100 Chetrum.
Status: 06/22/2022
1 US Dollar = 78.34 Ngultrum
1000 Ngultrum = 12.76 US Dollar

Languages
Official language:
Dzongkha
Religions
| Branch | distribution |
| --- | --- |
| Buddhists | 75.3% |
| Hinduists | 22.1% |
| other | 2.6% |
more...
Economy
Due to its political and financial situation, Bhutan is considered one of the
least developed countries
in the world.
Land use
| | |
| --- | --- |
| 14% Agricultural areas: | 5,295 km² |
| 71% Forest: | 27,433 km² |
| 0% Water areas: | 250 km² |
| 15% Others: | 5,667 km² |
Transport
Most important cities
| City | District | Population |
| --- | --- | --- |
| Thimphu / Capital | Thimphu | 115,000 |
| Punakha | Punakha | 22,000 |
| Tsirang | Chirang | 19,000 |
| Phuntsholing | Chhukha | 17,000 |
| Pemagatshel | Pemagatsel | 14,000 |
| Sarpang | Geylegphug | 10,000 |
| Wangdue Phodrang | Wangdi Phodrang | 7,510 |
| Samdrup Jongkhar | Samdrup Jongkhar | 7,510 |
| Samtse | Samchi | 5,480 |
| Jakar | Bumthang | 4,830 |
| Pajo | Punakha | 3,030 |
| Trashi Yangtse | Trashi Yangste | 3,030 |
| Mongar | Mongar | 2,970 |
| Tsimasham | Chhukha | 2,860 |
| Trongsa | Tongsa | 2,810 |
| Daga | Daga | 2,240 |
| Paro | Paro | 2,170 |
| Daphu | Chhukha | 1,670 |
| Ha | Ha | 1,450 |
| Panbang | Shemgang | 1,360 |
| Trashigang | Tashigang | 872 |
| Shemgang | Shemgang | 852 |
| Gasa | Gasa | 548 |
| Lhuentse | Lhuntshi | 100 |
Political indicators
(Based on the "Worldwide Governance Indicators" project of the World Bank)
| | |
| --- | --- |
| Political stability: | ◈ |
| Rule of law: | ◈ |
| Effectivity: | ◈ |
| Regulatory quality: | ◈ |
| Voice accountability: | ◈ |
| Death penalty: | abolished in 2004 |
Existing trade agreements
Alliances