Climate in Baden-Wurttemberg
(Germany)
Average daytime and nighttime temperatures
All climate diagrams on this site result from the collected data from 36 measuring weather stations in Baden-Wurttemberg.
Weather stations at an altitude above 980m have not been included.
All data correspond to the average monthly values of the last 20 years.
Back to overview: Germany
Baden-Wurttemberg is one of the warmest regions in Germany with an average daily high temperature of 15 degrees. The climate is varied and offers seasons with strong winters and warm summers. It rarely gets really warm up here. Due to the warmer temperatures, the best time for traveling is from June to September. Winter athletes will find their favorite weather conditions in January.
Sunshine hours per day
The number of hours of sunshine refers to the time when the sun is actually visible. That is, without any obstruction of visibility by clouds, fog or mountains. With 8 hours per day, July is the sunniest month in the state of Baden-Wurttemberg. In December, the sun shines the least.
Rain days per month
A rain day is a day on which at least 0.1 mm precipitation (=0.1 liter) per square meter falls. This can be rain, snow, hail or even dew. So it does not have to rain the whole day. With 13 rain days, December offers the most rain days, while September has the fewest.
Precipitation amount in mm/day
The amount of precipitation is measured in millimeters per square meter. Thus, at two mm/day, two liters of water fall on one square meter within 24 hours. With only 1.5 mm, the least amount of rain falls in March. May, on the other hand, has the most rain.
Water temperatures in °C
Water temperature depends not only on solar radiation within the same region, but also on ocean currents. For example, depending on the season, cold or warm water masses are moved from other areas. The warmest water temperatures in Baden-Wurttemberg are in July, when the water is 19 °C.
Relative humidity in %
Warm air can absorb more moisture than cold air. The relative humidity indicates how much moisture can be physically contained in the air. At high humidity, a person feels uncomfortable and perceives this as oppressive. In general, a relative humidity of 40-60% feels pleasant. With only 71% humidity on average, it is quite dry in July. The highest value of 85% is experienced here in January.
Absolute humidity in g/m³
In warm months, there is also a higher absolute humidity almost everywhere. At a temperature of 25°C, air can absorb up to 23 grams of water per cubic meter. At 20°C, it is only 17.3 grams. A relative humidity of 40% at 25°C thus corresponds to an absolute humidity of 9.2 grams of water. From a proportion of approx. 13.5 grams, humans perceive the air as muggy.
Humidex
The "Humidex" (humidity index) is an index of well-being in warmer areas, calculated from the air temperature, relative humidity and dew point. The index corresponds approximately to the temperature felt. At high temperatures, the body transports heat away by sweating. At high humidity, the ambient air can only absorb a small amount of sweat and thus one feels uncomfortable. An index of 20-29 is considered comfortable. Up to 39, people perceive the air as slightly uncomfortable, and above 40, as very uncomfortable. Values above 45 are dangerous in the long run and often lead to heat stroke.
Climate charts for other federal states in Germany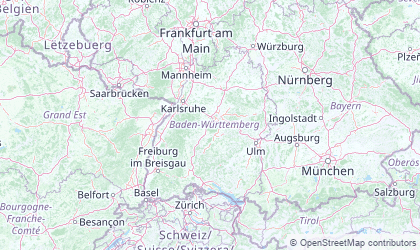 Most important cities in the federal state »Baden-Wurttemberg«
The federal state has a west-east extension of about 210 km and over 250 km from north to south.
City
Population
Geo position
Stuttgart
634,830
48° 46' 33"N
9° 10' 40"E
Karlsruhe
313,092
49° 0' 35"N
8° 24' 19"E
Mannheim
309,370
49° 29' 16"N
8° 27' 59"E
Freiburg im Breisgau
230,241
47° 59' 41"N
7° 50' 60"E
Heidelberg
160,355
49° 24' 32"N
8° 42' 7"E
Ulm
126,329
48° 23' 54"N
9° 59' 25"E
Heilbronn
125,960
49° 8' 26"N
9° 13' 5"E
Pforzheim
125,542
48° 53' 29"N
8° 41' 57"E
Reutlingen
115,966
48° 29' 31"N
9° 12' 43"E
Ludwigsburg
93,035
48° 53' 22"N
9° 11' 40"E
Esslingen am Neckar
92,186
48° 44' 29"N
9° 18' 34"E
Tübingen
88,347
48° 31' 20"N
9° 3' 28"E
Villingen-Schwenningen
84,070
48° 3' 30"N
8° 27' 35"E
Konstanz
83,789
47° 39' 46"N
9° 10' 33"E
Aalen
67,684
48° 50' 6"N
10° 5' 32"E
Sindelfingen
64,159
48° 42' 34"N
9° 0' 1"E
Schwäbisch Gmünd
60,349
48° 48' 9"N
9° 47' 47"E
Friedrichshafen
59,611
47° 39' 8"N
9° 28' 47"E
Offenburg
58,736
48° 28' 10"N
7° 56' 39"E
Göppingen
56,904
48° 42' 12"N
9° 39' 14"E
Waiblingen
54,824
48° 49' 56"N
9° 18' 58"E
Baden-Baden
54,307
48° 45' 42"N
8° 14' 24"E
Ravensburg
50,095
47° 47' 1"N
9° 36' 54"E
Böblingen
49,611
48° 41' 7"N
9° 0' 35"E
Lörrach
49,153
47° 36' 44"N
7° 39' 33"E
Heidenheim an der Brenz
48,709
48° 40' 40"N
10° 9' 17"E
Rastatt
48,494
48° 51' 28"N
8° 12' 9"E
Leonberg
47,744
48° 48' 2"N
9° 1' 0"E
Singen (Hohentwiel)
47,603
47° 45' 35"N
8° 50' 6"E
Lahr/Schwarzwald
45,784
48° 20' 21"N
7° 52' 27"E
Data basis: German Weather Service, individual values averaged and supplemented by own elements. Data on cities and inhabitants: geonames.org, United Nations Statistics Division and own research.