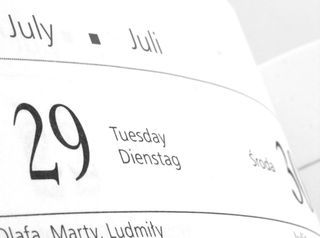 Public holidays in Belgium
Although European Belgium has Celtic and Germanic origins, the holidays have long been adapted to the Christian world. After all, the vast majority of the population is Roman Catholic. For this very reason, it is noticeable that some of the Christian holidays that are important in our country are not Christian holidays in Belgium. Neither Good Friday nor Boxing Day are public holidays in Belgium.
A special feature are the public holidays of the respective regions and communities.
Back to overview: Belgium
Non-movable holidays
Non-statutory holidays are written in gray.
| Date | holiday | Local name |
| --- | --- | --- |
| Jan. 1st | New Year | Jour de l'An |
| May 1st | Labor Day | Fête du travail |
| July 11th | Flemish Community Holiday | Feestdag van de Vlaamse Gemeenschap |
| July 21st | Belgian National Day | Fête nationale |
| Aug. 15th | Assumption Day | Assomption |
| Sept. 20th | Holiday of the Walloon Region | |
| Sept. 27th | French Community Holiday | La fête de la communauté française |
| Nov. 1st | All Saints' Day | Toussaint |
| Nov. 11th | Day of Truce | Armistice |
| Nov. 15th | Holiday of the German-speaking Community | |
| Dec. 25th | 1st Christmas Holiday | Noël |
| Dec. 26th | 2nd Christmas Holiday | |
| Dec. 31st | New Year's Eve | |
Moving Holidays in Belgium
| holiday | Local name | 2022 | 2023 | 2024 | 2025 | 2026 |
| --- | --- | --- | --- | --- | --- | --- |
| Good Friday | | April 15th | April 7th | March 29th | April 18th | April 3rd |
| Easter Sunday | Pâques | April 17th | April 9th | March 31st | April 20th | April 5th |
| Easter Monday | Lundi de Pâques | April 18th | April 10th | April 1st | April 21st | April 6th |
| Mother's Day | | May 8th | May 14th | May 12th | May 11th | May 10th |
| Ascension of Christ | Ascension | May 26th | May 18th | May 9th | May 29th | May 14th |
| Whit Sunday | Pentecôte | June 5th | May 28th | May 19th | June 8th | May 24th |
| Whit Monday | Lundi de pentecôte | June 6th | May 29th | May 20th | June 9th | May 25th |
| Father's Day | | June 12th | June 11th | June 9th | June 8th | June 14th |