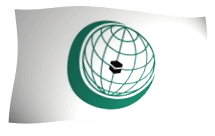 Members of the OIC:
Organization of Islamic Cooperation
The Organization of Islamic Cooperation is an alliance of currently 56 countries in which Islam plays a significant role. These are countries with Islam as the state religion, but also those in which Muslims form the majority of the population. Occasionally, members would also be admitted in which Muslims are only a minority but play a significant role for the country.

The OIC's 56 current members are located primarily in North Africa, the Near East, and South Asia. Together they cover an area of 31.66 million km² with a population of about 1.95 billion. This corresponds to about 24.70 percent of the world's population.


Official website: https://www.oic-oci.org/home/?lan=en
The main objective of the Organization of Islamic Cooperation is to promote cooperation between Muslim states in the fields of culture, science, social cooperation and the economy. An essential part of its work is also the protection of the Islamic faith and the holy sites.
The association was founded on September 25, 1969 in Morocco under the name "Organization of the Islamic Conference." It renamed itself the Organization of Islamic Cooperation on June 28, 2011. The original goal of the 25 members at the time was to liberate the Al-Aqsa Mosque after Israel's occupation of Jerusalem. Another goal enshrined in its charter is to support Palestinians with regards to their homeland rights.
Organs
The supreme organ of the OIC is the Islamic Summit Conference, which meets at irregular intervals and is attended by the government leaders of the member states who decide on fundamental issues. In addition, the foreign ministers meet annually in Jiddah, Saudi Arabia. There are also numerous subordinate bodies, such as the Islamic Development Bank, the Islamic Organization for Education, Science and Culture, and the Broadcasting Corporation of the Islamic States.
OIC Members and Observers
In addition to the 56 member states, there are individual countries or regions with observer status, which does not include voting rights. These are Bosnia and Herzegovina, Russia, Thailand, the Central African Republic and the Turkish Republic of Northern Cyprus. In addition, various international organizations act as observers. For example, the United Nations, the
Arab League
and the
African Union
. The Filipino-Muslim "Moro National Liberation Front" also counts as an observer today, although the application of the majority Catholic Philippines was rejected.