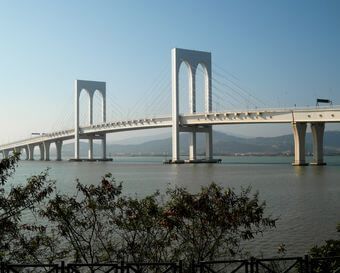 Transport and infrastructure in Macao
Our listing of the primary types of transport compares the infrastructure of Macao with the average of all countries in Asia.
›
Airports in Macao
Back to overview: Macao
Road traffic
The network of roads and highways has a total length of 428 km. For each of the country's 686,607 inhabitants, this corresponds to 0.62 meters. This puts Macao in 223rd place in the global ranking. However, it is also important to note that the country's
population density
is extremely high at around 22586 inhabitants per km². With so many people in such a relatively small area, longer driving distances are rare.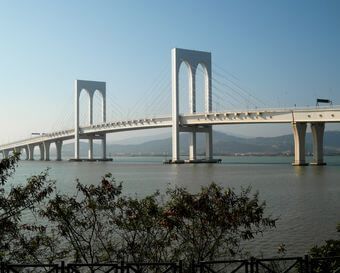 In Macao, left-hand traffic is the rule on the roads, i.e. you drive in the left lane and overtake on the right. Oncoming traffic comes to meet you on the right side. Here you can also find an overview of all
countries with left-hand traffic
.
Macao

total
per 1 mio
inhabitants
per km²
Roadways
400 km
623.36 km
14,078.95 m
Railroads
0 km
0.00 km
0.00 m
Waterways
0 km
0.00 km
0.00 m
Commercial harbors
1
1.46
0.033
Airports
1
1.46
32.895
Asia

total
per 1 mio
inhabitants
per km²
Roadways
16,613,000 km
3,524.24 km
519.50 m
Railroads
280,000 km
59.41 km
8.76 m
Waterways
260,300 km
55.21 km
8.14 m
Commercial harbors
45,998
9.76
0.001
Airports
1,012
0.21
0.000
Data sources used
•
Global Health Observatory Data Repository
(World Health Organization)
•
UNCTAD
•
Internation Union of Railways
(UIC)
•
CIA Factbook
•
OECD Statistics
•
Wikipedia
(german)