Macao
Presidential limited democracy (special administrative region of China)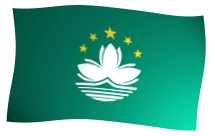 Region:
East Asia
Area:
30 km²
Local name:
Macau, Aomen
Capital:
Concelho de Macau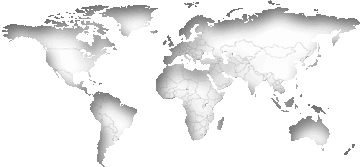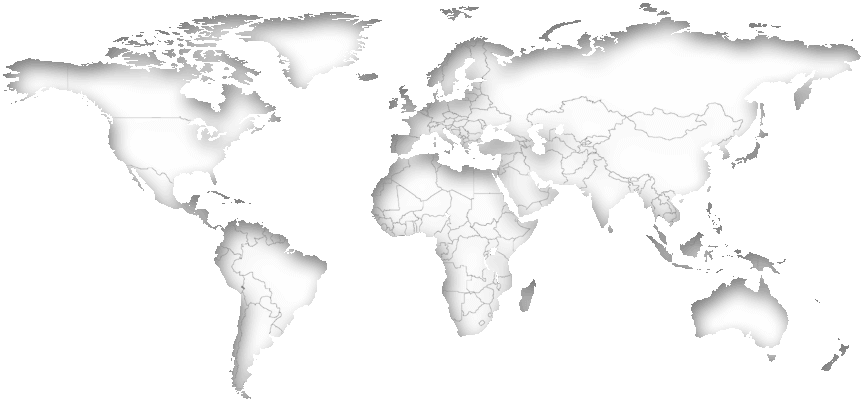 Geography
Macao is a country in the mouth of the Pearl River west of Hong Kong. The dwarf state has a total area of only 30 km² (12 mi²) and a total coastline of 41 km (25.5 mi). This land area is about 0.9 times the size of Manhattan. In terms of area, Macao is the smallest country in Asia and the ninth smallest in the world. With 21,658 inhabitants per km², it is also the
most densely populated country
in the world. Urbanization in the country has progressed so far that all residents are now counted as part of the urban population. Around 4 out of 5 residents live in Concelho de Macau.
The country has 2
islands
in the open sea.
China
ist the only directly neighbouring country of Macao. The distance between New York City and the Capital Concelho de Macau is about 12,990 km (8,072 mi).
On further pages:
Current time in Macao:
00:00
August 2022
The countrywide time in Macao is
China Standard Time (CST)
.
As in many countries, there is no daylight saving time in Macao.
Related to Greenwich Mean Time, there's the same difference of 8 hours all over the year.Anders als in Deutschland gibt es hier jedoch keine Sommerzeit. Somit entsteht also im Winter ein Zeitunterschied von 7 Stunden. Im Sommer hingegen beträgt die Zeitverschiebung 6 Stunden.
Public Holidays in Macao
Sunrise and sunset
Population
Life expectancy females:
Ø 87.3 years
Males/Females:
48.1% : 51.9%
Population pyramid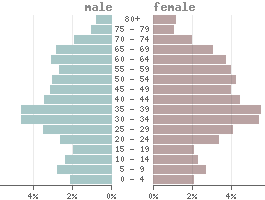 The currency in Macao is
the Macanese Pataca (MOP).
1 Pataca is divided into 100 Avos.
Status: 08/16/2022
1 US Dollar = 8.11 Pataca
1 Pataca = 0.12 US Dollar
The climate in Macao
In Macao, as in all equatorial countries, there is a tropical climate. Unlike in Europe or the USA, there is almost no difference between the seasons. The daylight hours vary little, and the temperature differences between summer and winter are also lesser. Depending on the season, the average daytime temperatures range between 19 and 32 degrees. In the colder months, the average night temperatures drop down to 13 °C.
Average daytime and nighttime temperatures


Languages
Official language:
Chinese, Portuguese
Religions
| Branch | distribution |
| --- | --- |
| Buddhists | 50.0% |
| Roman Catholics | 15.0% |
| other | 35.0% |
more...
Economy
Considering the purchasing power parity Macao is among the 10
richest countries
in the world.
more...
Transport
| | |
| --- | --- |
| Roadways: | 428 km |
| Commercial harbors: | 1 |
| › Airports: | 1 |
Country status of Macau
Strictly speaking, Macau, like
Hong Kong
, is a partially-administrated territory of
China
with a special status. Even at the United Nations, Macau is only listed as a territory dependent on China.
But Macao has its own (Chinese-influenced) legislation, its own tax system, police, customs, immigration service and its own currency independent of China. In Macau even Portuguese is one of the official languages.
Various international organizations such as ISO, STANAG, Fips and also the United Nations have issued separate country codes for Macau. This is the main reason to have Macau as a separate "country", which is not the same as a sovereign state.
The main districts
| District | Population |
| --- | --- |
| Concelho de Macau | 504,000 |
| Concelho das Ilhas | 103,000 |
Political indicators
(Based on the "Worldwide Governance Indicators" project of the World Bank)
| | |
| --- | --- |
| Political stability: | ◈ |
| Rule of law: | ◈ |
| Effectivity: | ◈ |
| Regulatory quality: | ◈ |
| Voice accountability: | ◈ |
Alliances