Climate in Mangghystau
(Kazakhstan)
Average daytime and nighttime temperatures
All climate diagrams on this site result from the collected data from two measuring weather stations in Mangghystau.
All data correspond to the average monthly values of the last 20 years.
Back to overview: Kazakhstan
Mangghystau is one of the warmest regions in Kazakhstan with an average daily high temperature of 19 degrees. The climate is varied and offers seasons with strong winters and warm summers. It rarely gets really warm up here. Due to the warmer temperatures, the best time for traveling is from May to September. Less attractive are the cold months from November to March.
Rain days per month
A rain day is a day on which at least 0.1 mm precipitation (=0.1 liter) per square meter falls. This can be rain, snow, hail or even dew. So it does not have to rain the whole day. With 4 rain days, November offers the most rain days, while August has the fewest.
Precipitation amount in mm/day
The amount of precipitation is measured in millimeters per square meter. Thus, at two mm/day, two liters of water fall on one square meter within 24 hours. With only 0.1 mm, the least amount of rain falls in June. March, on the other hand, has the most rain.
Climate charts for other regions in Kazakhstan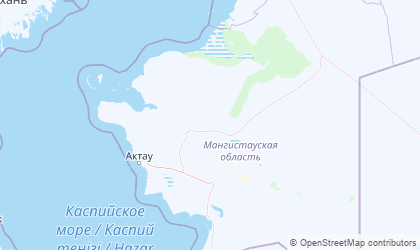 Most important cities in the region »Mangghystau«
The region has a west-east extension of about 400 km and over 240 km from north to south.
City
Population
Geo position
Aktau
204,701
43° 38' 53"N
51° 10' 20"E
Zhanaozen
81,604
43° 20' 28"N
52° 51' 43"E
Beyneu
14,245
45° 19' 0"N
55° 12' 0"E
Kuryk
11,836
43° 12' 0"N
51° 38' 60"E
Shetpe
11,836
44° 10' 0"N
52° 7' 0"E
Zhetibay
11,731
43° 35' 39"N
52° 4' 44"E
Fort-Shevchenko
5,213
44° 30' 24"N
50° 15' 50"E
Munayshy
4,085
43° 29' 28"N
52° 6' 31"E
Bautino
3,247
44° 32' 41"N
50° 14' 47"E
Taushyq
2,600
44° 20' 48"N
51° 20' 58"E
Ömirzaq
1,885
43° 35' 52"N
51° 14' 30"E
Sayötesh
1,571
44° 19' 40"N
53° 31' 57"E
Data basis: German Weather Service, individual values averaged and supplemented by own elements. Data on cities and inhabitants: geonames.org, United Nations Statistics Division and own research.