Climate in Southwest Mexico
Average daytime and nighttime temperatures
All climate diagrams on this site result from the collected data from 25 measuring weather stations in Southwest Mexico.
Weather stations at an altitude above 1920m have not been included.
All data correspond to the average monthly values of the last 20 years.
Back to overview: Mexico
The climate is very warm with an annual average of 30 degrees, but has few truly tropical and muggy months. It is warm to hot all year round, inviting bathing at average water temperatures of 27 degrees. Due to less rain, the best time for traveling is from November to April. Most precipitation falls from June to October.
Sunshine hours per day
The number of hours of sunshine refers to the time when the sun is actually visible. That is, without any obstruction of visibility by clouds, fog or mountains. With 9 hours per day, April is the sunniest month in the region of Southwest Mexico. In September, the sun shines the least.
Rain days per month
A rain day is a day on which at least 0.1 mm precipitation (=0.1 liter) per square meter falls. This can be rain, snow, hail or even dew. So it does not have to rain the whole day. With 16 rain days, September offers the most rain days, while February has the fewest.
Precipitation amount in mm/day
The amount of precipitation is measured in millimeters per square meter. Thus, at two mm/day, two liters of water fall on one square meter within 24 hours. With only 0.7 mm, the least amount of rain falls in March. September, on the other hand, has the most rain.
Water temperatures in °C
Water temperature depends not only on solar radiation within the same region, but also on ocean currents. For example, depending on the season, cold or warm water masses are moved from other areas. The warmest water temperatures in Southwest Mexico are in August, when the water is 29 °C.
Relative humidity in %
Warm air can absorb more moisture than cold air. The relative humidity indicates how much moisture can be physically contained in the air. At high humidity, a person feels uncomfortable and perceives this as oppressive. In general, a relative humidity of 40-60% feels pleasant. With humidity averaging 81%, September is the most uncomfortable. In February, on the other hand, it is easier to endure.
Absolute humidity in g/m³
In warm months, there is also a higher absolute humidity almost everywhere. At a temperature of 25°C, air can absorb up to 23 grams of water per cubic meter. At 20°C, it is only 17.3 grams. A relative humidity of 40% at 25°C thus corresponds to an absolute humidity of 9.2 grams of water. From a proportion of approx. 13.5 grams, humans perceive the air as muggy. This limit is exceeded throughout the year in Southwest Mexico.
Humidex
The "Humidex" (humidity index) is an index of well-being in warmer areas, calculated from the air temperature, relative humidity and dew point. The index corresponds approximately to the temperature felt. At high temperatures, the body transports heat away by sweating. At high humidity, the ambient air can only absorb a small amount of sweat and thus one feels uncomfortable. An index of 20-29 is considered comfortable. Up to 39, people perceive the air as slightly uncomfortable, and above 40, as very uncomfortable. Values above 45 are dangerous in the long run and often lead to heat stroke.
Climate charts for other regions in Mexico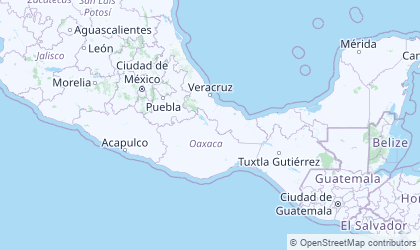 Most important cities in the region »Southwest Mexico«
Alone 2 major cities with over 500,000 inhabitants are located here. The region has a west-east extension of about 1160 km and over 750 km from north to south.
It consists of the three federal states Chiapas, Guerrero and Oaxaca.
City
Population
Geo position
Acapulco de Juárez
673,479
16° 51' 48"N
99° 53' 24"W
Tuxtla Gutiérrez
537,102
16° 45' 35"N
93° 6' 47"W
Oaxaca de Juárez
255,029
17° 3' 56"N
96° 43' 25"W
Tapachula
197,961
14° 54' 25"N
92° 15' 43"W
San Cristóbal de las Casas
185,917
16° 43' 54"N
92° 38' 29"W
Chilpancingo de los Bravos
165,250
17° 33' 2"N
99° 30' 21"W
Iguala de la Independencia
112,106
18° 20' 57"N
99° 32' 22"W
Las Margaritas
103,403
16° 18' 46"N
91° 58' 52"W
Tuxtepec
92,121
18° 5' 18"N
96° 7' 31"W
Comitán
79,944
16° 14' 41"N
92° 8' 3"W
Salina Cruz
73,648
16° 11' 3"N
95° 12' 5"W
Juchitán de Zaragoza
67,637
16° 26' 10"N
95° 1' 11"W
Santa Cruz Xoxocotlán
61,846
17° 1' 46"N
96° 44' 7"W
Ixtapa-Zihuatanejo
61,308
17° 38' 36"N
101° 33' 8"W
Taxco de Alarcón
53,217
18° 33' 23"N
99° 36' 18"W
Ciudad de Huajuapan de León
47,844
17° 48' 28"N
97° 46' 46"W
San Luis de la Paz
47,321
21° 17' 52"N
100° 31' 0"W
Santo Domingo Tehuantepec
37,389
16° 19' 29"N
95° 14' 28"W
Tlapa de Comonfort
36,873
17° 32' 26"N
98° 34' 46"W
Palenque
36,669
17° 30' 34"N
91° 58' 57"W
Cintalapa de Figueroa
33,464
16° 41' 2"N
93° 43' 5"W
Tonalá
32,855
16° 5' 19"N
93° 45' 21"W
Chiapa de Corzo
32,182
16° 42' 28"N
93° 0' 43"W
Ocozocoautla de Espinosa
31,596
16° 45' 44"N
93° 22' 29"W
Huixtla
29,257
15° 8' 25"N
92° 27' 57"W
Ocosingo
28,721
16° 54' 23"N
92° 5' 37"W
Malinaltepec
26,613
17° 14' 42"N
98° 40' 15"W
Santiago Pinotepa Nacional
25,669
16° 20' 18"N
98° 3' 19"W
Ciudad Altamirano
24,533
18° 21' 30"N
100° 40' 11"W
Chilapa de Alvarez
23,665
17° 35' 41"N
99° 10' 35"W
Data basis: German Weather Service, individual values averaged and supplemented by own elements. Data on cities and inhabitants: geonames.org, United Nations Statistics Division and own research.