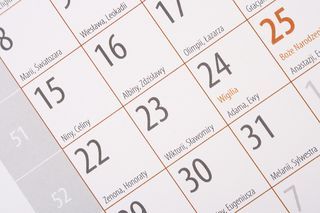 Public holidays in Poland
In the predominantly Catholic Poland, you can basically find the whole range of Christian holidays. Like only a few other countries, Easter Sunday and Whit Sunday are public holidays here, although they fall on a Sunday.
The list of public holidays may look remarkably long at first glance. The Polish commemoration days, the "Day of Solidarity and Freedom" and the "Day of National Education" are special in this respect — although they are national holidays, they do not count as work-free days.
Back to overview: Poland
Non-floating holidays
Non-statutory holidays are written in gray.
| Date | Holiday | Local name |
| --- | --- | --- |
| Jan. 1st | New Year's Day | Nowy Rok |
| Jan. 6th | Epiphany | Święto Trzech Króli |
| March 1st | Memorial Day of the Outcast Soldiers | Narodowy Dzień Pamięci Żołnierzy Wyklętych |
| April 13th | Memorial Day of the Victims of Katyn | Dzień Pamięci Ofiar Zbrodni Katyńskiej |
| May 1st | National holiday | Święto Państwowe |
| May 1st | Labor Day | |
| May 3rd | Constitution Day | Święto Narodowe Trzeciego Maja |
| May 9th | Victory Day over the Third Reich | Narodowe Święto Zwycięstwa i Wolności |
| May 26th | Mother's Day | Dzień Matki |
| June 23rd | Father's Day | |
| June 28th | Commemoration Day of the Poznan Uprising 1956 | Narodowy Dzień Pamięci Poznańskiego Czerwca |
| Aug. 15th | Assumption Day | Wniebowzięcie Najświętszej Maryi Panny |
| Aug. 31st | Day of solidarity and freedom | Dzień Solidarności i Wolności |
| Oct. 14th | Day of National Education | Dzień Edukacji Narodowej |
| Oct. 16th | Commemoration Day of Pope John Paul II | Dzień Papieża Jana Pawła II |
| Nov. 1st | All Saints' Day | Wszystkich Świętych |
| Nov. 11th | Independence Day | Narodowe Święto Niepodległości |
| Dec. 25th | Christmas Day | Pierwszy dzień Bożego Narodzenia |
| Dec. 26th | Boxing Day | Drugi dzień Bożego Narodzenia |
| Dec. 31st | New Year's Eve | Sylwester |
Moving Holidays in Poland
| Holiday | Local name | 2023 | 2024 | 2025 | 2026 | 2027 |
| --- | --- | --- | --- | --- | --- | --- |
| Dirty Thursday | | Feb. 16th | Feb. 8th | Feb. 27th | Feb. 12th | Feb. 4th |
| Easter Sunday | Pierwszy dzień Wielkanocy | April 9th | March 31st | April 20th | April 5th | March 28th |
| Easter Monday | Drugi dzień Wielkanocy | April 10th | April 1st | April 21st | April 6th | March 29th |
| Whit Sunday | Pierwszy dzień Zielonych Świątek | May 28th | May 19th | June 8th | May 24th | May 16th |
| Corpus Christi | Dzień Bożego Ciała | June 8th | May 30th | June 19th | June 4th | May 27th |