Poland
Parliamentary republic
Independent since 1918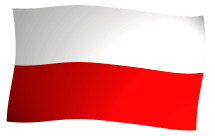 Official:
Republic of Poland
Local name:
Polska
Region:
Eastern Europe
Area:
312,680 km²
Capital:
Warsaw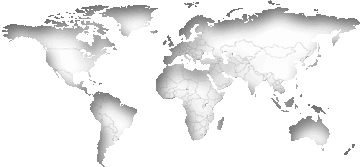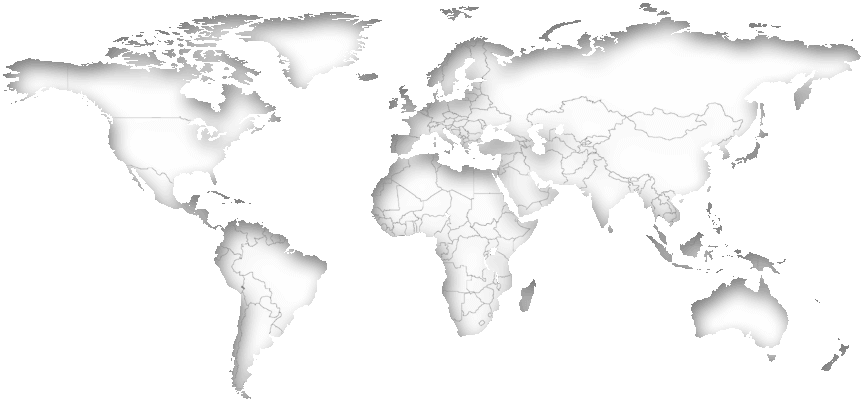 Geography
Poland is a country at the Baltic Sea coast. The land has a total area of 312,680 km² (120,726 mi²) and a total coastline of 440 km (273.4 mi). This land area is approximately 77% of the area of California. Poland is thus one of the largest countries in Europe and the 70th biggest in the world. More than half of all residents (60%) live within cities.
Poland is comparatively low at an average elevation of 173 meters above sea level. The highest mountain peak (Rysy) is at 2,499 meters. The country has about 20
islands
. There are direct national borders with the seven neighboring countries
Belarus
,
Czechia
,
Germany
,
Lithuania
,
Russia
,
Slovakia
and
Ukraine
. The distance between New York City and the Capital Warsaw is about 6,860 km (4,263 mi).
On further pages:
Population
Life expectancy females:
Ø 80.8 years
Males/Females:
48.4% : 51.6%
Population pyramid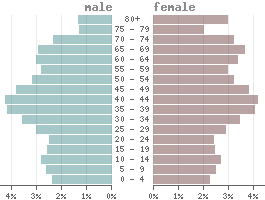 The currency in Poland is
the zloty (PLN).
1 Zloty is divided into 100 Groszy.
Status: 03/30/2023
1 US dollar = 4.29 Zlotys
1 Zloty = 0.23 US dollar
The climate in Poland
In the northern regions of Poland and in the west of the country, the climate is more temperate, while in the interior, the continental climate predominates. The Baltic Sea provides more rain in the north, warm summers and comparatively mild winters. The further south you go, the more intense the seasons become. The summers become hotter and the winters frostier with sometimes heavy snowfalls. Most rain falls in the months of April and September. The southern Carpathians, Sudetes and Tatra Mountains receive the most precipitation. This is also where it gets coldest at high altitudes.
Average daytime and nighttime temperatures


Languages
Official language:
Polish
Religions
| Religion | Distribution |
| --- | --- |
| Orthodoxes | 1.3% |
| Roman Catholics | 87.0% |
| Protestants | 0.4% |
| other | 11.3% |
more...
Economy
According to the definition from the International Monetary Fund (IMF), Poland is a
developing country
because of its lower economic performance. With a Human Development Index (HDI) of 0.876, Poland counts as one of the high developed economies by UN definition.
In terms of revenues, the Philippines ranks only 40th in the world and, with an
average annual income
of 16,850 USD is one of the high-income countries.
Land use
| | |
| --- | --- |
| 10% Urban areas: | 30,501 km² |
| 47% Agricultural areas: | 146,741 km² |
| 31% Forest: | 96,837 km² |
| 2% Water areas: | 6,490 km² |
| 12% Others: | 38,601 km² |
more...
Transport
| | |
| --- | --- |
| Roadways: | 420,000 km |
| Railways: | 18,538 km |
| Waterways: | 3,997 km |
| Commercial harbors: | 143 |
| › Airports: | 11 |
Most important cities
| City | Region | Population |
| --- | --- | --- |
| Warsaw / Capital | Masovia | 1,794,000 |
| Lodz | Lodz | 769,000 |
| Kraków | Lesser Poland | 759,000 |
| Wroclaw | Lower Silesia | 635,000 |
| Poznan | Greater Poland | 538,000 |
| Gdansk | Pomerania | 463,000 |
| Szczecin | West Pomerania | 402,000 |
| Bydgoszcz | Kuyavia-Pomerania | 353,000 |
| Lublin | Lublin | 342,000 |
| Katowice | Silesia | 301,000 |
| Bialystok | Podlaskie | 294,000 |
| Gdynia | Pomerania | 244,000 |
| Czestochowa | Silesia | 223,000 |
| Radom | Masovia | 213,000 |
| Mokotów | Masovia | 213,000 |
| Sosnowiec | Silesia | 203,000 |
| Torun | Kuyavia-Pomerania | 199,000 |
| Kielce | Swietokrzyskie | 196,000 |
| Praga Poludnie | Masovia | 188,000 |
| Rzeszów | Subcarpathia | 186,000 |
| Gliwice | Silesia | 180,000 |
| Olsztyn | Warmia-Masuria | 174,000 |
| Zielona Góra | Lubusz | 140,000 |
| Opole | Opole | 127,000 |
Political indicators
(Based on the "Worldwide Governance Indicators" project of the World Bank)
| | |
| --- | --- |
| Political stability: | ◈ |
| Rule of law: | ◈ |
| Effectivity: | ◈ |
| Regulatory quality: | ◈ |
| Voice accountability: | ◈ |
| Death penalty: | abolished in 1997 |
Existing trade agreements
Alliances