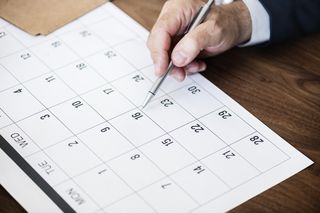 Public holidays in Norway
The Norwegians celebrate the festivals common in Christian countries. Easter and Christmas are the most important festivals there, to which most of the other legal holidays orient themselves.
Although Norway actually reaches further north than Finland, Midsummer is not a legal holiday here. Nevertheless, this custom is well known and most shops are closed. The Norwegians do not celebrate it like the Finns on Saturday after Midsummer Day, but always on John the Baptist's birthday — or rather the night before, i.e., on the night from June 23-24. This night was given the name St. John's Eve.
Back to overview: Norway
Non-floating holidays
Non-statutory holidays are written in gray.
| Date | Holiday |
| --- | --- |
| Jan. 1st | New Year's Day |
| May 1st | Labor Day |
| May 17th | National holiday |
| June 23rd | St. Hans Evening |
| June 24th | Birthday of John the Baptist |
| July 29th | St. Olav's Day |
| Nov. 1st | All Saints' Day |
| Dec. 13th | St. Lucia's Day |
| Dec. 24th | Christmas Eve |
| Dec. 25th | Christmas Day |
| Dec. 26th | Boxing Day |
Moving Holidays in Norway
| Holiday | 2023 | 2024 | 2025 | 2026 | 2027 |
| --- | --- | --- | --- | --- | --- |
| Mother's Day | Feb. 12th | Feb. 11th | Feb. 9th | Feb. 8th | Feb. 14th |
| Shrovetide | Feb. 28th | Feb. 20th | March 11th | Feb. 24th | Feb. 16th |
| Palm Sunday | April 2nd | March 24th | April 13th | March 29th | March 21st |
| Good Friday | April 7th | March 29th | April 18th | April 3rd | March 26th |
| Maundy Thursday | April 7th | March 29th | April 18th | April 3rd | March 26th |
| Easter Sunday | April 9th | March 31st | April 20th | April 5th | March 28th |
| Easter Monday | April 10th | April 1st | April 21st | April 6th | March 29th |
| Ascension of Christ | May 18th | May 9th | May 29th | May 14th | May 6th |
| Whit Sunday | May 28th | May 19th | June 8th | May 24th | May 16th |
| Whit Monday | May 29th | May 20th | June 9th | May 25th | May 17th |
| Midsummer Day | June 21st | June 20th | June 21st | June 21st | June 21st |
| Mutton in Cabbage Day | Sept. 28th | Sept. 26th | Sept. 25th | Sept. 24th | Sept. 30th |
| Father's Day | Nov. 12th | Nov. 10th | Nov. 9th | Nov. 8th | Nov. 14th |