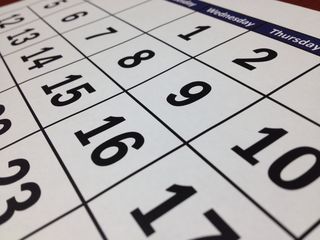 Public holidays in Finland
Easter and Christmas are the lynchpin of most holidays in predominantly Christian Finland.
As in most other northern countries, there is a special feature here in contrast to more southern countries: the Midsummer Festival. It is celebrated on the Saturday of the summer solstice.
Back to overview: Finland
Non-floating holidays
Non-statutory holidays are written in gray.
| Date | Holiday | Local name |
| --- | --- | --- |
| Jan. 1st | New Year's Day | Uudenvuodenpäivä |
| Jan. 6th | Epiphany | Loppiainen |
| Jan. 13th | Knut's Day | Knutstag |
| Feb. 5th | Runeberg's Day | Runeberginpäivä |
| Feb. 28th | Finnish Culture Day | Kalevala |
| April 9th | Finnish Language Day | Agricola |
| May 1st | May Holiday | Vappu |
| Oct. 10th | Day of Finnish Literature | Aleksiskivi |
| Nov. 1st | All Saints' Day | Pyhäinpäivä |
| Nov. 6th | Swedish Day | Ruotsinpäivä |
| Dec. 6th | Independence Day | Itsenäisyyspäivä |
| Dec. 13th | Lucia's Day | Luciapäivä |
| Dec. 24th | Christmas Eve | Jouluaatto |
| Dec. 25th | Christmas Day | Joulupäivä |
| Dec. 26th | Boxing Day | Tapaninpäivä |
Moving Holidays in Finland
| Holiday | Local name | 2023 | 2024 | 2025 | 2026 | 2027 |
| --- | --- | --- | --- | --- | --- | --- |
| Shrovetide | Laskiainen | Feb. 28th | Feb. 20th | March 11th | Feb. 24th | Feb. 16th |
| Good Friday | Pitkäperjantai | April 7th | March 29th | April 18th | April 3rd | March 26th |
| Easter Sunday | Pääsiäispäivä | April 9th | March 31st | April 20th | April 5th | March 28th |
| Easter Monday | Pääsiäispäivä | April 10th | April 1st | April 21st | April 6th | March 29th |
| Ascension of Christ | Helatorstai | May 18th | May 9th | May 29th | May 14th | May 6th |
| Whit Sunday | Helluntai | May 28th | May 19th | June 8th | May 24th | May 16th |
| Midsummer Day | Juhannus | June 21st | June 20th | June 21st | June 21st | June 21st |
| Midsummer festival | Juhannusaatto | June 24th | June 22nd | June 21st | June 20th | June 26th |
| Father's Day | Isänpäivä | Nov. 12th | Nov. 10th | Nov. 9th | Nov. 8th | Nov. 14th |
| Winter Solstice | Joulu | Dec. 22nd | Dec. 21st | Dec. 21st | Dec. 21st | Dec. 22nd |