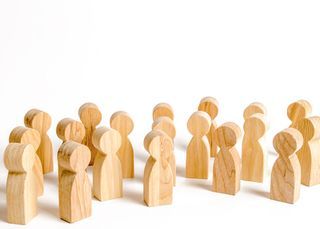 Population growth in Nauru
From 1960 to 2021 the population of Nauru increased from 4,377.00 to 10,873.00 people. This is a growth by
148.4 percent in 61 years
. The highest increase in Nauru was recorded in 1962 with 6.81%. The biggest decrease in 2002 with -1.14%.
In the same period, the total population of all countries worldwide increased by 158.5 percent.
The average age in Nauru in 2020 was 27.00 years (median value).
Around 100% of the inhabitants live in the country's larger cities. This growing trend of urbanization is increasing by 0.4% annually.
›
Population growth in worldwide comparison
Back to overview: Nauru
Population development in Nauru since 1960
(Data given in 1000 inhabitants)
Year
Population
Nauru
Change
Birthrate
Deathrate
Population
World
Change
1961
5,000
5.71 %
3,072 M
1.30 %
1962
5,000
6.81 %
3,125 M
1.72 %
1963
5,000
6.64 %
3,190 M
2.08 %
1964
6,000
6.07 %
3,255 M
2.05 %
1965
6,000
4.81 %
3,322 M
2.06 %
1966
6,000
3.52 %
3,392 M
2.11 %
1967
6,000
2.57 %
3,462 M
2.05 %
1968
6,000
1.96 %
3,533 M
2.06 %
1969
6,000
1.61 %
3,607 M
2.09 %
1970
7,000
1.68 %
3,682 M
2.09 %
1971
7,000
1.77 %
3,761 M
2.13 %
1972
7,000
1.93 %
3,837 M
2.03 %
1973
7,000
1.93 %
3,913 M
1.98 %
1974
7,000
1.92 %
3,988 M
1.93 %
1975
7,000
1.64 %
4,063 M
1.86 %
1976
7,000
1.48 %
4,135 M
1.80 %
1977
7,000
1.54 %
4,208 M
1.75 %
1978
8,000
1.47 %
4,281 M
1.75 %
1979
8,000
1.61 %
4,357 M
1.76 %
1980
8,000
1.64 %
4,433 M
1.75 %
1981
8,000
1.55 %
4,511 M
1.76 %
1982
8,000
1.84 %
4,592 M
1.80 %
1983
8,000
1.83 %
4,674 M
1.78 %
1984
8,000
2.06 %
4,756 M
1.75 %
1985
9,000
2.04 %
4,839 M
1.75 %
1986
9,000
2.09 %
4,925 M
1.77 %
1987
9,000
2.18 %
5,013 M
1.78 %
1988
9,000
2.14 %
5,101 M
1.77 %
1989
9,000
2.40 %
5,190 M
1.74 %
1990
10,000
2.49 %
5,280 M
1.74 %
1991
10,000
2.74 %
5,368 M
1.67 %
1992
10,000
2.70 %
5,453 M
1.57 %
1993
10,000
2.56 %
5,538 M
1.56 %
1994
10,000
2.03 %
5,622 M
1.52 %
1995
11,000
1.24 %
5,707 M
1.51 %
1996
11,000
0.48 %
5,790 M
1.45 %
1997
11,000
-0.32 %
5,872 M
1.43 %
1998
11,000
-0.71 %
5,954 M
1.39 %
1999
10,000
-1.12 %
6,034 M
1.35 %
2000
10,000
-1.09 %
6,114 M
1.32 %
2001
10,000
-1.12 %
6,194 M
1.30 %
2002
10,000
-1.14 %
6,273 M
1.28 %
2003
10,000
-1.11 %
6,352 M
1.26 %
2004
10,000
-0.84 %
6,432 M
1.25 %
2005
10,000
-0.59 %
6,512 M
1.25 %
2006
10,000
-0.21 %
6,593 M
1.24 %
2007
10,000
0.19 %
6,674 M
1.24 %
2008
10,000
0.35 %
6,757 M
1.24 %
2009
10,000
0.66 %
6,840 M
1.22 %
2010
10,000
0.64 %
6,922 M
1.20 %
2011
10,000
0.60 %
7,004 M
1.18 %
2012
10,000
0.67 %
7,089 M
1.22 %
2013
10,000
0.71 %
7,176 M
1.22 %
2014
10,000
0.79 %
7,262 M
1.20 %
2015
10,000
0.83 %
7,348 M
1.18 %
2016
10,000
0.96 %
7,434 M
1.17 %
2017
11,000
0.98 %
7,519 M
1.15 %
2018
11,000
0.95 %
7,603 M
1.11 %
2019
11,000
0.81 %
7,684 M
1.07 %
2020
11,000
0.65 %
7,764 M
1.04 %
2021
11,000
0.36 %
7,837 M
0.94 %