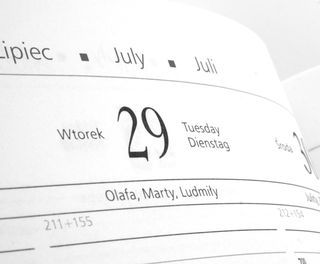 Public holidays in Luxembourg
In terms of numbers, Luxembourg is quite reserved with public holidays. All important public holidays are also present in Luxembourg, but compared to other European countries, many of the Christian events are not public holidays. Even Good Friday is not a public holiday and is rather considered a national holiday. In addition, as in many other countries, Easter and Whit Sunday are not public holidays, as they fall on a Sunday anyway.
A pleasant arrangement: If a public holiday falls on a Sunday, it is compensated by a day off, which can be taken up to 3 months later.
Back to overview: Luxembourg
Non-movable holidays
Non-statutory holidays are written in gray.
| Date | holiday |
| --- | --- |
| Jan. 1st | New Year's Day |
| Jan. 6th | Epiphany |
| May 1st | Labor Day |
| June 23rd | National holiday |
| Aug. 15th | Assumption Day |
| Nov. 2nd | All Souls' Day |
| Dec. 24th | Christmas Eve |
| Dec. 25th | Christmas Day |
| Dec. 26th | Boxing Day |
| Dec. 31st | New Year's Eve |
Moving Holidays in Luxembourg
| holiday | 2022 | 2023 | 2024 | 2025 | 2026 |
| --- | --- | --- | --- | --- | --- |
| Ash Wednesday | March 2nd | Feb. 22nd | Feb. 14th | March 5th | Feb. 18th |
| Maundy Thursday | April 14th | April 6th | March 28th | April 17th | April 2nd |
| Good Friday | April 15th | April 7th | March 29th | April 18th | April 3rd |
| Easter Sunday | April 17th | April 9th | March 31st | April 20th | April 5th |
| Easter Monday | April 18th | April 10th | April 1st | April 21st | April 6th |
| Ascension of Christ | May 26th | May 18th | May 9th | May 29th | May 14th |
| Whit Sunday | June 5th | May 28th | May 19th | June 8th | May 24th |
| Mother's Day | June 5th | June 4th | June 2nd | June 1st | June 7th |
| Whit Monday | June 6th | May 29th | May 20th | June 9th | May 25th |
| Corpus Christi | June 16th | June 8th | May 30th | June 19th | June 4th |
| Father's Day | Oct. 2nd | Oct. 1st | Oct. 6th | Oct. 5th | Oct. 4th |