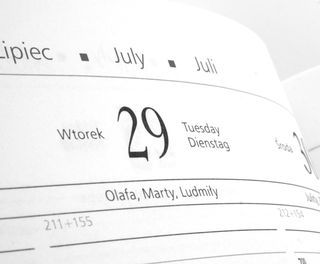 Public holidays in Latvia
In the Christian world, most holidays are oriented towards Easter or Christmas. But in other countries far away from home there is enough reason to celebrate.
Not all holidays are statuted by law — and those that are, do not necessarily mean a day off in all regions of Latvia. Rather, it is often up to the respective parts of the country whether the holiday is also a day off.
Back to overview: Latvia
Non-floating holidays
Non-statutory holidays are written in gray.
| Date | Holiday |
| --- | --- |
| Jan. 1st | New Year's Day |
| May 1st | Labor Day |
| May 4th | Independence Day |
| June 24th | Johannis' Day |
| Aug. 15th | Assumption Day |
| Nov. 18th | Proclamation of the Republic of Latvia |
| Dec. 24th | Christmas Eve |
| Dec. 25th | Christmas Day |
| Dec. 26th | Boxing Day |
| Dec. 31st | New Year's Eve |
Moving Holidays in Latvia
| Holiday | 2023 | 2024 | 2025 | 2026 | 2027 |
| --- | --- | --- | --- | --- | --- |
| Good Friday | April 7th | March 29th | April 18th | April 3rd | March 26th |
| Holy Saturday | April 8th | March 30th | April 19th | April 4th | March 27th |
| Easter Sunday | April 9th | March 31st | April 20th | April 5th | March 28th |
| Easter Monday | April 10th | April 1st | April 21st | April 6th | March 29th |
| Mother's Day | May 14th | May 12th | May 11th | May 10th | May 9th |
| Ascension of Christ | May 18th | May 9th | May 29th | May 14th | May 6th |
| Father's Day | May 18th | May 9th | May 29th | May 14th | May 6th |
| Whit Sunday | May 28th | May 19th | June 8th | May 24th | May 16th |
| Whit Monday | May 29th | May 20th | June 9th | May 25th | May 17th |
| Midsummer Day | June 21st | June 20th | June 21st | June 21st | June 21st |