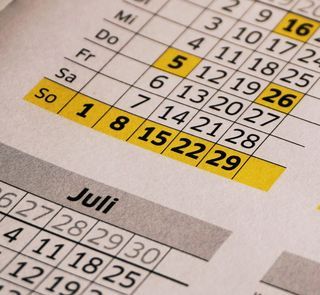 Public holidays in Italy
As a Catholic country, Italy also offers an almost complete list of all Christian holidays. Easter Sunday and Whitsun are not included here (as in Switzerland, for example), as these fall on a Sunday anyway.
Joseph's Day, Corpus Christi and Peter and Paul were abolished as public holidays in 1977. Good Friday is well known throughout the country, but it is only celebrated by very strict Catholics.
New Year's Eve is not actually a public holiday, but it is celebrated throughout Italy. On this day, most stores are closed by noon at the latest.


Back to overview: Italy


Non-floating holidays
Non-statutory holidays are written in gray.
| Date | Holiday | Local name |
| --- | --- | --- |
| Jan. 1st | New Year | Capodanno |
| Jan. 6th | Epiphany | Epifania |
| March 19th | Josef's Day | |
| March 19th | Father's Day | Festa del Papà |
| April 25th | Liberation Day of Italy | Anniversario della Liberazione |
| May 1st | Labor Day | Festa del Lavoro |
| June 2nd | Day of the Republic | Festa della Repubblica |
| June 29th | Peter and Paul | |
| Aug. 15th | Assumption Day | Assunzione di Maria Virgine |
| Nov. 1st | All Saints' Day | Ognissanti |
| Dec. 8th | Immaculate conception | Immacolata Concezione |
| Dec. 25th | 1st Christmas Holiday | Natale |
| Dec. 26th | 2nd Christmas Holiday | Santo Stefano |
| Dec. 31st | New Year's Eve | San Silvestro |
Moving Holidays in Italy
| Holiday | Local name | 2023 | 2024 | 2025 | 2026 | 2027 |
| --- | --- | --- | --- | --- | --- | --- |
| Good Friday | | April 7th | March 29th | April 18th | April 3rd | March 26th |
| Easter Sunday | | April 9th | March 31st | April 20th | April 5th | March 28th |
| Easter Monday | Lunedì dell'Angelo | April 10th | April 1st | April 21st | April 6th | March 29th |
| Whit Sunday | | May 28th | May 19th | June 8th | May 24th | May 16th |
| Whit Monday | Lunedì di Pentecoste | May 29th | May 20th | June 9th | May 25th | May 17th |
| Corpus Christi | | June 8th | May 30th | June 19th | June 4th | May 27th |