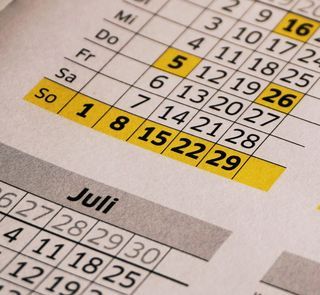 Public holidays in Ireland
The Irish have relatively few public holidays. Although the Irish population is predominantly Catholic, Whitsun and Easter holidays, such as Ascension Day or Corpus Christi are not on the calendar. Even Good Friday is not a public holiday. Banks and public authorities are usually closed here.
In the 80s and 90s, the three holidays in May, June and August were added in order to achieve a European average.
If a public holiday falls on a Saturday or Sunday, the day off is moved. In some other countries, it is automatically scheduled for the following Monday. In Ireland, this alternative day is up to the employer, who can set the date themself.
Back to overview: Ireland
Non-floating holidays
Non-statutory holidays are written in gray.
| Date | Holiday |
| --- | --- |
| Jan. 1st | New Year's Day |
| March 17th | National holiday |
| July 12th | Battle of Boyne Memorial Day (Northern Ireland only) |
| Dec. 24th | Christmas Eve |
| Dec. 25th | Christmas Day |
| Dec. 26th | Boxing Day |
| Dec. 27th | Christmas Bank Holiday |
| Dec. 31st | New Year's Eve |
Moving Holidays in Ireland
| Holiday | 2023 | 2024 | 2025 | 2026 | 2027 |
| --- | --- | --- | --- | --- | --- |
| Mother's Day | March 19th | March 10th | March 30th | March 15th | March 7th |
| Good Friday | April 7th | March 29th | April 18th | April 3rd | March 26th |
| Easter Sunday | April 9th | March 31st | April 20th | April 5th | March 28th |
| Easter Monday | April 10th | April 1st | April 21st | April 6th | March 29th |
| Labor Day | May 1st | May 6th | May 5th | May 4th | May 3rd |
| Whit Sunday | May 28th | May 19th | June 8th | May 24th | May 16th |
| Whit Monday | May 29th | May 20th | June 9th | May 25th | May 17th |
| June Holiday | June 5th | June 3rd | June 2nd | June 1st | June 7th |
| Father's Day | June 18th | June 16th | June 15th | June 21st | June 20th |
| Summer holiday | Aug. 7th | Aug. 5th | Aug. 4th | Aug. 3rd | Aug. 2nd |
| Bank holiday | Oct. 30th | Oct. 28th | Oct. 27th | Oct. 26th | Oct. 25th |