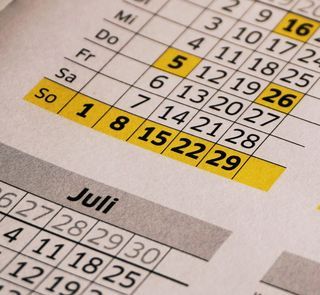 Public holidays in Iceland
The fact that Iceland is a Christian country is also reflected in the calendar, which includes almost all the holidays of the Western Christian Church. More pronounced than in most other countries, even Maundy Thursday and Christmas Eve are public holidays.
A special Icelandic feature is the day off at the beginning of summer, though the midsummer day is missing and the beginning of winter is a bit neglected.
Back to overview: Iceland
Non-floating holidays
Non-statutory holidays are written in gray.
| Date | Holiday | Local name |
| --- | --- | --- |
| Jan. 1st | New Year's Day | Nýársdagur |
| Jan. 6th | Epiphany | Þrettándinn |
| Feb. 18th | Women's Day | Konudagur |
| May 1st | Labor Day | Hátíðisdagur Verkamanna |
| June 17th | National holiday | Íslenski þjóðhátíðardagurinn |
| Aug. 15th | Assumption Day | |
| Nov. 16th | Day of the Icelandic Language | Dagur íslenskrar tungu |
| Dec. 23rd | Bishop Thorlak's Day | Þorláksmessa |
| Dec. 24th | Christmas Eve | Aðfangadagur |
| Dec. 25th | Christmas Day | Jóladagur |
| Dec. 26th | Boxing Day | Annar í jólum |
| Dec. 31st | New Year's Eve | Gamlárskvöld |
Moving Holidays in Iceland
| Holiday | Local name | 2023 | 2024 | 2025 | 2026 | 2027 |
| --- | --- | --- | --- | --- | --- | --- |
| Husband's Day | Bóndadagur | Jan. 20th | Jan. 19th | Jan. 24th | Jan. 23rd | Jan. 22nd |
| Green Monday | Bolludagur | Feb. 20th | Feb. 12th | March 3rd | Feb. 16th | Feb. 8th |
| Shrove Tuesday | Sprengidagur | Feb. 21st | Feb. 13th | March 4th | Feb. 17th | Feb. 9th |
| Ash Wednesday | Öskudagur | Feb. 22nd | Feb. 14th | March 5th | Feb. 18th | Feb. 10th |
| Palm Sunday | Pálmasunnudagur | April 2nd | March 24th | April 13th | March 29th | March 21st |
| Maundy Thursday | Skírdagur | April 6th | March 28th | April 17th | April 2nd | March 25th |
| Good Friday | Föstudagurinn langi | April 7th | March 29th | April 18th | April 3rd | March 26th |
| Easter Sunday | Páskadagur | April 9th | March 31st | April 20th | April 5th | March 28th |
| Easter Monday | Annar í páskum | April 10th | April 1st | April 21st | April 6th | March 29th |
| Beginning of summer | Sumardagurinn fyrsti | April 20th | April 25th | April 24th | April 23rd | April 22nd |
| Mother's Day | Mæðradagurinn | May 14th | May 12th | May 11th | May 10th | May 9th |
| Ascension of Christ | Uppstigningardagur | May 18th | May 9th | May 29th | May 14th | May 6th |
| Whit Sunday | Hvítasunnudagur | May 28th | May 19th | June 8th | May 24th | May 16th |
| Whit Monday | Annar í hvítasunnu | May 29th | May 20th | June 9th | May 25th | May 17th |
| Seamen's Day | Sjómannadagurinn | June 4th | June 2nd | June 1st | June 7th | June 6th |
| Corpus Christi | | June 8th | May 30th | June 19th | June 4th | May 27th |
| Free day for employees | Verslunarmannahelgi | Aug. 7th | Aug. 5th | Aug. 4th | Aug. 3rd | Aug. 2nd |
| Beginning of winter | Fyrsti vetrardagur | Oct. 28th | Oct. 26th | Oct. 25th | Oct. 24th | Oct. 23rd |
| Father's Day | | Nov. 12th | Nov. 10th | Nov. 9th | Nov. 8th | Nov. 14th |