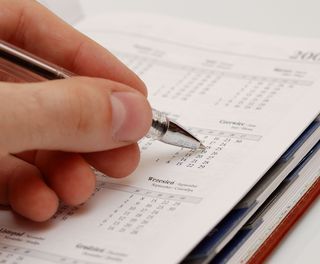 Public holidays in Romania
In Romania, most holidays are based on Christian events like Easter and Christmas. As in many Eastern European countries, the date of Easter is not calculated according to the Gregorian calendar, but according to the calendar of the Orthodox Church. Thus, Easter always takes place a little later than in most countries. In Serbia, for example, the Orthodox calendar is also used to calculate Christmas, but not in Romania.
Two more special features: The beginning of the year is celebrated with two public holidays, while Good Friday is not celebrated at all.
Back to overview: Romania
Non-floating holidays
Non-statutory holidays are written in gray.
| Date | Holiday | Local name |
| --- | --- | --- |
| Jan. 1st | New Year's Day | Anul nou |
| Jan. 2nd | 2nd New Year's Day | Anul nou |
| March 8th | Mother's Day | Ziua Mamei |
| May 1st | Labor Day | Ziua muncii |
| June 1st | Children's Day | Ziua Copilului |
| June 6th | Day of Unity | Ziua națională |
| June 26th | Day of the national flag | Ziua drapelului national |
| July 29th | Day of the national anthem | Ziua Imnului național |
| Aug. 15th | Assumption Day | Adormirea Maicii Domnului |
| Nov. 30th | Day of St. Andrew | Sfântul Andrei |
| Dec. 8th | Constitution Day | Ziua Constituției |
| Dec. 24th | Christmas Eve | Ajunul Crăciunului |
| Dec. 25th | Christmas Day | Crăciunul |
| Dec. 26th | Boxing Day | Crăciunul |
Moving Holidays in Romania
| Holiday | Local name | 2023 | 2024 | 2025 | 2026 | 2027 |
| --- | --- | --- | --- | --- | --- | --- |
| Orthodox Easter Sunday | Paștele | April 16th | May 5th | April 20th | April 12th | May 2nd |
| Orthodox Easter Monday | | April 26th | May 15th | April 30th | April 22nd | May 12th |
| Father's Day | Ziua Tatălui | May 14th | May 12th | May 11th | May 10th | May 9th |
| Ascension of Christ | Ziua Eroilor | May 26th | June 14th | May 30th | May 22nd | June 11th |
| Orthodox Pentecost Sunday | Rusaliile | June 4th | June 23rd | June 8th | May 31st | June 20th |
| Orthodox Whit Monday | Lunea Rusaliilor | June 5th | June 24th | June 9th | June 1st | June 21st |