Climate in Chūbu
(Japan)
Average daytime and nighttime temperatures
All climate diagrams on this site result from the collected data from 13 measuring weather stations in Chūbu.
Weather stations at an altitude above 610m have not been included.
All data correspond to the average monthly values of the last 20 years.
Back to overview: Japan
Chūbu is one of the coldest regions in Japan with an average daily high temperature of only 20 degrees. A beach holiday can be enjoyed in the warmer season with water temperatures of up to 25 degrees. Due to the warmer temperatures, the best time for traveling is from June to September. Less attractive are the cold months from November to March.
Sunshine hours per day
The number of hours of sunshine refers to the time when the sun is actually visible. That is, without any obstruction of visibility by clouds, fog or mountains. With 7 hours per day, May is the sunniest month in the region of Chūbu. In December, the sun shines the least.
Rain days per month
A rain day is a day on which at least 0.1 mm precipitation (=0.1 liter) per square meter falls. This can be rain, snow, hail or even dew. So it does not have to rain the whole day. With 13 rain days, July offers the most rain days, while February has the fewest.
Precipitation amount in mm/day
The amount of precipitation is measured in millimeters per square meter. Thus, at two mm/day, two liters of water fall on one square meter within 24 hours. With only 3.2 mm, the least amount of rain falls in January. September, on the other hand, has the most rain.
Water temperatures in °C
Water temperature depends not only on solar radiation within the same region, but also on ocean currents. For example, depending on the season, cold or warm water masses are moved from other areas. The warmest water temperatures in Chūbu are in August, when the water is 25 °C.
Relative humidity in %
Warm air can absorb more moisture than cold air. The relative humidity indicates how much moisture can be physically contained in the air. At high humidity, a person feels uncomfortable and perceives this as oppressive. In general, a relative humidity of 40-60% feels pleasant. With humidity averaging 75%, July is the most uncomfortable. In March, on the other hand, it is easier to endure.
Absolute humidity in g/m³
In warm months, there is also a higher absolute humidity almost everywhere. At a temperature of 25°C, air can absorb up to 23 grams of water per cubic meter. At 20°C, it is only 17.3 grams. A relative humidity of 40% at 25°C thus corresponds to an absolute humidity of 9.2 grams of water. From a proportion of approx. 13.5 grams, humans perceive the air as muggy. This limit is reached for 4 months in Chūbu, although these are average values, and a month is rarely completely or not at all humid.
Humidex
The "Humidex" (humidity index) is an index of well-being in warmer areas, calculated from the air temperature, relative humidity and dew point. The index corresponds approximately to the temperature felt. At high temperatures, the body transports heat away by sweating. At high humidity, the ambient air can only absorb a small amount of sweat and thus one feels uncomfortable. An index of 20-29 is considered comfortable. Up to 39, people perceive the air as slightly uncomfortable, and above 40, as very uncomfortable. Values above 45 are dangerous in the long run and often lead to heat stroke.
Climate charts for other regions in Japan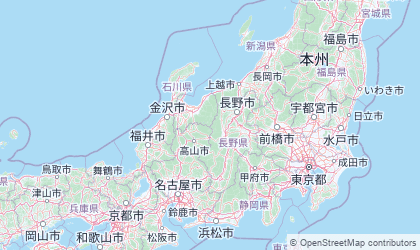 Most important cities in the region »Chūbu«
Alone 4 major cities with over 600,000 inhabitants are located here. The region has a west-east extension of about 340 km and over 400 km from north to south.
It consists of the nine prefectures Aichi, Fukui, Gifu, Ishikawa, Nagano, Niigata, Shizuoka, Toyama and Yamanashi.
City
Population
Geo position
Nagoya
2,332,176
35° 10' 53"N
136° 54' 23"E
Hamamatsu
790,718
34° 42' 0"N
137° 43' 60"E
Niigata
789,275
37° 54' 8"N
139° 1' 25"E
Shizuoka
693,389
34° 58' 37"N
138° 22' 59"E
Kanazawa
463,254
36° 35' 40"N
136° 37' 32"E
Toyota
422,330
35° 4' 60"N
137° 9' 0"E
Toyama
413,938
36° 41' 43"N
137° 12' 41"E
Gifu
402,557
35° 25' 22"N
136° 45' 37"E
Okazaki
384,654
34° 57' 0"N
137° 10' 0"E
Ichinomiya
380,073
35° 17' 60"N
136° 48' 0"E
Nagano
372,760
36° 39' 5"N
138° 10' 52"E
Toyohashi
371,920
34° 46' 0"N
137° 22' 60"E
Kasugai
308,681
35° 14' 51"N
136° 58' 20"E
Nagaoka
266,936
37° 27' 0"N
138° 50' 60"E
Fukui
262,328
36° 3' 52"N
136° 13' 21"E
Fuji
245,392
35° 10' 0"N
138° 40' 60"E
Matsumoto
241,145
36° 13' 60"N
137° 58' 0"E
Kofu
189,591
35° 39' 50"N
138° 34' 6"E
Numazu
189,386
35° 6' 0"N
138° 52' 0"E
Joetsu
188,047
37° 8' 54"N
138° 14' 11"E
Anjo
187,990
34° 57' 30"N
137° 4' 50"E
Toyokawa
184,661
34° 49' 0"N
137° 24' 0"E
Nishio
169,046
34° 52' 0"N
137° 3' 0"E
Iwata
166,672
34° 42' 0"N
137° 50' 60"E
Takaoka
166,393
36° 45' 0"N
137° 1' 0"E
Ogaki
158,286
35° 21' 0"N
136° 37' 0"E
Ueda
154,055
36° 24' 10"N
138° 16' 54"E
Kariya
153,834
34° 58' 60"N
136° 58' 60"E
Komaki
148,831
35° 16' 60"N
136° 55' 0"E
Kakamigahara
144,521
35° 25' 0"N
136° 52' 0"E
Data basis: German Weather Service, individual values averaged and supplemented by own elements. Data on cities and inhabitants: geonames.org, United Nations Statistics Division and own research.