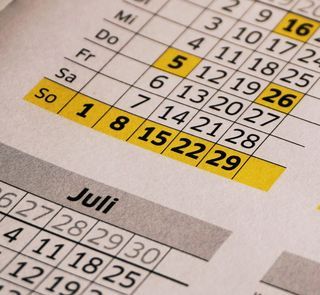 Public holidays in Israel
In the Christian world, most holidays are oriented towards Easter or Christmas. But in other countries far away from home there is enough reason to celebrate.
Not all holidays are statuted by law — and those that are, do not necessarily mean a day off in all regions of Israel. Rather, it is often up to the respective parts of the country whether the holiday is also a day off.
Back to overview: Israel
Moving Holidays in Israel
Non-statutory holidays are written in gray.
| Holiday | Local name | 2023 | 2024 | 2025 | 2026 | 2027 |
| --- | --- | --- | --- | --- | --- | --- |
| New year festival of trees and bushes | Tu biSchevat | Feb. 6th | Jan. 25th | Feb. 13th | Feb. 2nd | Jan. 23rd |
| Fast of Esther | Ta'anit Esther | March 6th | Feb. 22nd | March 13th | March 2nd | Feb. 20th |
| Salvation from Persia | Purim | March 7th | Feb. 23rd | March 14th | March 3rd | Feb. 21st |
| Exodus from Egypt | Pessach | April 6th | April 23rd | April 13th | April 2nd | April 22nd |
| Exodus from Egypt (day 2) | Pessach (2) | April 7th | April 24th | April 14th | April 3rd | April 23rd |
| Exodus from Egypt (day 3) | Pessach (3) | April 8th | April 25th | April 15th | April 4th | April 24th |
| Exodus from Egypt (day 4) | Pessach (4) | April 9th | April 26th | April 16th | April 5th | April 25th |
| Exodus from Egypt (day 5) | Pessach (5) | April 10th | April 27th | April 17th | April 6th | April 26th |
| Exodus from Egypt (day 6) | Pessach (6) | April 11th | April 28th | April 18th | April 7th | April 27th |
| Exodus from Egypt (day 7) | Pessach (7) | April 12th | April 29th | April 19th | April 8th | April 28th |
| Holocaust Memorial Day | Jom haScho'a | April 17th | May 4th | April 24th | April 13th | May 3rd |
| Memorial Day of Israeli soldiers | Jom haZikaron | April 23rd | May 10th | April 30th | April 19th | May 9th |
| Independence Day | Jom haAtzma'ut | April 24th | May 11th | May 1st | April 20th | May 10th |
| Bar Kochba uprising | Lag baOmer | May 9th | May 26th | May 16th | May 5th | May 25th |
| Thanksgiving | Schawuot | May 26th | June 12th | June 2nd | May 22nd | June 11th |
| Thanksgiving (day 2) | Schawuot (2) | May 27th | June 13th | June 3rd | May 23rd | June 12th |
| Destruction of the Temple in Jerusalem | Tischa beAv | July 27th | Aug. 13th | Aug. 3rd | July 23rd | Aug. 12th |
| Victory of the Pharisees over the Sadducees | Tu B'Av | Aug. 2nd | Aug. 19th | Aug. 9th | July 29th | Aug. 18th |
| Jewish New Year | Rosch ha-Schana | Sept. 16th | Oct. 3rd | Sept. 23rd | Sept. 12th | Oct. 2nd |
| 2nd New Year's Day | Rosch ha-Schana (2) | Sept. 17th | Oct. 4th | Sept. 24th | Sept. 13th | Oct. 3rd |
| Day of Atonement | Jom Kippur | Sept. 25th | Oct. 12th | Oct. 2nd | Sept. 21st | Oct. 11th |
| Feast of Tabernacles | Sukkot | Sept. 30th | Oct. 17th | Oct. 7th | Sept. 26th | Oct. 16th |
| Feast of Tabernacles (day 2) | Sukkot (2) | Oct. 1st | Oct. 18th | Oct. 8th | Sept. 27th | Oct. 17th |
| Feast of Tabernacles (day 3) | Sukkot (3) | Oct. 2nd | Oct. 19th | Oct. 9th | Sept. 28th | Oct. 18th |
| Feast of Tabernacles (day 4) | Sukkot (4) | Oct. 3rd | Oct. 20th | Oct. 10th | Sept. 29th | Oct. 19th |
| Feast of Tabernacles (day 5) | Sukkot (5) | Oct. 4th | Oct. 21st | Oct. 11th | Sept. 30th | Oct. 20th |
| Feast of Tabernacles (day 6) | Sukkot (6) | Oct. 5th | Oct. 22nd | Oct. 12th | Oct. 1st | Oct. 21st |
| Feast of Tabernacles + Palm Festival | Sukkot + Hoschana Rabba | Oct. 6th | Oct. 23rd | Oct. 13th | Oct. 2nd | Oct. 22nd |
| Eighth day of Assembly | Schmini Azeret | Oct. 7th | Oct. 24th | Oct. 14th | Oct. 3rd | Oct. 23rd |
| Rejoicing of the Torah | Simchat Tora | Oct. 8th | Oct. 25th | Oct. 15th | Oct. 4th | Oct. 24th |
| Entry into Israel | Yom HaAliyah | Oct. 22nd | Nov. 8th | Oct. 29th | Oct. 18th | Nov. 7th |
| Festival of Lights | Chanukka | Dec. 8th | Dec. 26th | Dec. 15th | Dec. 5th | Dec. 25th |
| Festival of Lights (day 2) | Chanukka (2) | Dec. 9th | Dec. 27th | Dec. 16th | Dec. 6th | Dec. 26th |
| Festival of Lights (day 3) | Chanukka (3) | Dec. 10th | Dec. 28th | Dec. 17th | Dec. 7th | Dec. 27th |
| Festival of Lights (day 4) | Chanukka (4) | Dec. 11th | Dec. 29th | Dec. 18th | Dec. 8th | Dec. 28th |
| Festival of Lights (day 5) | Chanukka (5) | Dec. 12th | Dec. 30th | Dec. 19th | Dec. 9th | Dec. 29th |
| Festival of Lights (day 6) | Chanukka (6) + Rosch Chodesch | Dec. 13th | Dec. 31st | Dec. 20th | Dec. 10th | Dec. 30th |
| Festival of Lights (day 7) | Chanukka (7) | Dec. 13th | Jan. 1st | Jan. 1st | Dec. 11th | Dec. 31st |
| Festival of Lights (day 8) | Chanukka (8) | Dec. 14th | Jan. 1st | Jan. 2nd | Dec. 12th | Jan. 1st |