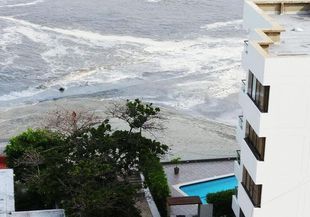 Tsunamis in Colombia
A total of 4 tidal waves classified as a tsunami since 1906 have killed 645 people in Colombia. Tsunamis therefore occur only rarely here.
The strongest tidal wave registered in Colombia so far reached a height of eight meters. On 07/19/2017, no losses of human lifes have been registered by this tsunami.
The biggest impact in terms of lifes, injuries, destroyed homes and the economy had been a tsunami on 12/12/1979. A tidal wave of up to six meters killed 36 humans and destroyed vast areas.
Other natural hazards in Colombia:
›
Volcanos
›
Earthquakes
›
Hurricanes
›
The most severe natural disasters worldwide
Back to overview: Colombia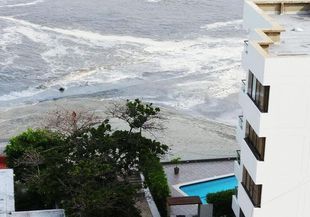 Tsunamis are caused by earthquakes or other seismic eruptions on ground of an oceans and can cause massive tidal waves, which run with enormous force on land, causing great devastation. Especially in regions with only few tsunamis, the damage is often drastic, as the population does not expect tsunamis and thus hardly takes any protective measures. Even relatively small flood waves can lead to high losses and financial damage.
The marked positions on the map represent the most affected regions within the past 120 years.
The largest tsunamis in Colombia since 1906
| Date | Cause | Max. tidal wave | Fatalities | Total damage |
| --- | --- | --- | --- | --- |
| 07/19/2017 | Landslide in Colombia (Off The Coast Near Santa Marta) | 8 m | 0 | |
| 12/12/1979 | Earthquakes in Colombia (Colombia: Off Shore, Pacific Ocean) with a magnitude of 7.7. | 6 m | 36 | |
| 01/19/1958 | Earthquakes in Ecuador (Colombia-Ecuador) with a magnitude of 7.6. | 0 m | 0 | |
| 01/31/1906 | Earthquakes in Ecuador (Off Coast) with a magnitude of 8.8. The tsunami also reached Ecuador, United States. A total of 1,000 humans died. | 5 m | 609 | |
These evaluations are based on data from the Global Historical Tsunami Database of the National Geophysical Data Center, NOAA, and World Data Service (NGDC/WDS),
doi:10.7289/V5PN93H7
. Individual data have been summarized or translated.