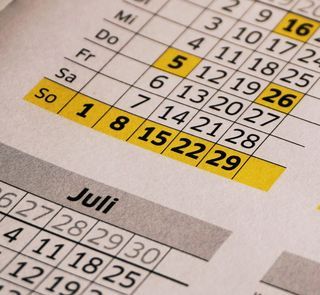 Public holidays in Isle of Man
The island of Man belongs to the former British Empire and is also geographically practically in the middle of it. The holidays of the Isle of Man and the United Kingdom are the same, with a few exceptions.
The biggest really only national holiday is the "Tourist Trophy Senior Race Day". Every year the Tourist Trophy takes place on the island of Man and the main race day was declared a holiday.
Back to overview: Isle of Man
Non-movable holidays
Non-statutory holidays are written in gray.
| Date | holiday | Local name |
| --- | --- | --- |
| Jan. 1st | New Year | New Year's Day |
| April 23rd | Shakespeare's Day | Shakespeare Day |
| July 5th | Tynwald's Day | Tynwald Day |
| Aug. 15th | Assumption Day | Assumption of Mary |
| Nov. 1st | All Saints' Day | All Saints' Day |
| Nov. 2nd | All Souls' Day | All Souls' Day |
| Nov. 5th | Guy Fawkes Day | |
| Dec. 8th | Immaculate conception | Feast of the Immaculate Conception |
| Dec. 24th | Christmas Eve | Christmas Eve |
| Dec. 25th | 1st Christmas Holiday | Christmas Day |
| Dec. 26th | 2nd Christmas Holiday | Boxing Day |
| Dec. 31st | New Year's Eve | New Year's Eve |
Moving Holidays in Isle of Man
| holiday | Local name | 2022 | 2023 | 2024 | 2025 | 2026 |
| --- | --- | --- | --- | --- | --- | --- |
| Shrove Tuesday | Shrove Tuesday | March 1st | Feb. 21st | Feb. 13th | March 4th | Feb. 17th |
| Ash Wednesday | Ash Wednesday | March 2nd | Feb. 22nd | Feb. 14th | March 5th | Feb. 18th |
| Mother's Day | Mothering Sunday | March 27th | March 19th | March 10th | March 30th | March 15th |
| Maundy Thursday | Maundy Thursday | April 14th | April 6th | March 28th | April 17th | April 2nd |
| Good Friday | Good Friday | April 15th | April 7th | March 29th | April 18th | April 3rd |
| Easter Monday | Easter Monday | April 18th | April 10th | April 1st | April 21st | April 6th |
| Bank Holiday in early May | Early May Bank Holiday | May 2nd | May 1st | May 6th | May 5th | May 4th |
| Ascension of Christ | Ascension Day | May 26th | May 18th | May 9th | May 29th | May 14th |
| Bank Holiday in spring | Spring Bank Holiday | May 30th | May 29th | May 27th | May 26th | May 25th |
| Whit Sunday | Pentecost | June 5th | May 28th | May 19th | June 8th | May 24th |
| Whit Monday | Whit Monday | June 6th | May 29th | May 20th | June 9th | May 25th |
| Race day for Tourists' Trophy | Tourist Trophy Senior Race Day | June 10th | June 9th | June 14th | June 13th | June 12th |
| Corpus Christi | Corpus Christi | June 16th | June 8th | May 30th | June 19th | June 4th |
| Father's Day | Father's Day | June 19th | June 18th | June 16th | June 15th | June 21st |
| Memorial Day of the two world wars | Remembrance Sunday | Nov. 13th | Nov. 12th | Nov. 17th | Nov. 16th | Nov. 15th |