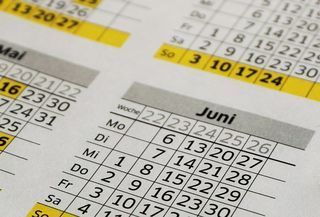 Public holidays in Croatia
Croatia has a predominantly catholic population and so most of the Christianity holidays are here. Only the Pfingsttage one does not find in Croatia, otherwise the year corresponds quite far to the remaining Europe.
Back to overview: Croatia
Non-movable holidays
Non-statutory holidays are written in gray.
| Date | holiday | Local name |
| --- | --- | --- |
| Jan. 1st | New Year's Day | Nova godina |
| Jan. 6th | Epiphany | Bogojavljanje |
| Feb. 3rd | Feast of Saint Blasius (only Dubrovnik) | |
| May 1st | Labor Day | Praznik rada |
| May 7th | Feast of Saint Duje (only Split) | |
| June 22nd | Day of the antifascist struggle | Dan antifašističke borbe |
| Aug. 5th | Day of Victory and Homely Gratefulness | Dan pobjede i domovinske zahvalnosti |
| Aug. 15th | Assumption Day | Velika Gospa |
| Oct. 8th | Independence Day | Dan neovisnosti |
| Nov. 1st | All Saints' Day | Svi sveti |
| Dec. 6th | Saint Nicholas | |
| Dec. 24th | Christmas Eve | |
| Dec. 25th | Christmas Day | božićni blagdani |
| Dec. 26th | Boxing Day | božićni blagdani |
| 25th | Day of statehood | Dan državnosti |
Moving Holidays in Croatia
| holiday | Local name | 2022 | 2023 | 2024 | 2025 | 2026 |
| --- | --- | --- | --- | --- | --- | --- |
| Easter Sunday | Uskrsa | April 17th | April 9th | March 31st | April 20th | April 5th |
| Easter Monday | drugi dan Uskrsa | April 18th | April 10th | April 1st | April 21st | April 6th |
| Corpus Christi | Tijelovo | June 16th | June 8th | May 30th | June 19th | June 4th |