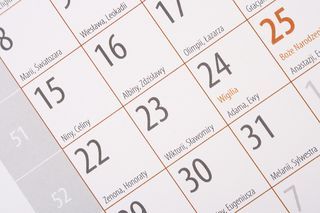 Public holidays in the Philippines
In the predominantly strictly Catholic Philippines, most holidays are based on the dates of Easter and Christmas. Unlike most other countries, in the Philippines, All Saints' Day, All Souls' Day and even December 24 are work-free holidays.
But the Chinese influence can also be felt: The Chinese New Year is a regular holiday on the calendar, testifying to an increasingly Chinese population.
In addition, there are numerous regional holidays on which generals and city foundations are remembered. By the way, a visit to the Sinulog Festival in Cebu City is recommended, where the whole city is turned upside down for three days.
Back to overview: Philippines
Non-floating holidays
Non-statutory holidays are written in gray.
| Date | Holiday | Local name |
| --- | --- | --- |
| Jan. 1st | New Year's Day | Araw ng Bagong Taon |
| Jan. 16th | Sinulog (Cebu only) | Sinulog (nur Cebu) |
| Feb. 2nd | Constitution Day | Constitution Day |
| Feb. 25th | People's Power Day | Araw ng People Power |
| July 27th | Iglesia Ni Cristo Day | Araw ng Iglesia Ni Cristo |
| Nov. 1st | All Saints' Day | Araw ng mga Namayapa |
| Nov. 2nd | All Souls' Day | Araw ng mga Patay |
| Nov. 27th | Festival of Sacrifice | Eidul Adha |
| Dec. 24th | Christmas Eve | Pasko |
| Dec. 25th | Chirstmas | Araw ng Pasko |
| Dec. 31st | New Year's Eve | Bisperas ng Bagong Taon |
Moving Holidays in the Philippines
| Holiday | Local name | 2023 | 2024 | 2025 | 2026 | 2027 |
| --- | --- | --- | --- | --- | --- | --- |
| Chinese New Years Festival | Araw ng Bagong Taon ng mga Tsino | Jan. 22nd | Feb. 10th | Jan. 29th | Feb. 17th | Feb. 6th |
| Maundy Thursday | Huwebes Santo | April 6th | March 28th | April 17th | April 2nd | March 25th |
| Good Friday | Biyernes Santo | April 7th | March 29th | April 18th | April 3rd | March 26th |
| Easter Sunday | Linggo ng Pagkabuhay | April 9th | March 31st | April 20th | April 5th | March 28th |
| Day of honor | Araw ng Kagitingan | April 10th | April 9th | April 9th | April 9th | April 9th |
| Labor Day | Araw ng Manggagawa | May 1st | May 1st | May 1st | May 1st | May 1st |
| Independence Day | Araw ng Kalayaan | June 12th | June 12th | June 12th | June 12th | June 12th |
| Benigno Aquino Day | Araw ng Kabayanihan ni Ninoy Aquino | Aug. 21st | Aug. 21st | Aug. 21st | Aug. 21st | Aug. 21st |
| National Hero Memorial Day | Araw ng mga Bayani | Aug. 28th | Aug. 26th | Aug. 25th | Aug. 31st | Aug. 30th |
| Bonifacio Day | Kaarawan ni Bonifacio | Nov. 30th | Nov. 30th | Dec. 1st | Nov. 30th | Nov. 30th |
| Rizal Day | Araw ng Kabayanihan ni Dr. Jose Rizal | Dec. 30th | Dec. 30th | Dec. 30th | Dec. 30th | Dec. 30th |