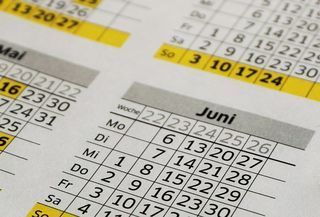 Public holidays in Hong Kong
Hong Kong is a multicultural metropolis, but is essentially oriented to the traditional Chinese lunar calendar. Nevertheless, Hong Kong is quite cosmopolitan and the Gregorian calendar is also the decisive system there in daily dealings. Thanks to the diverse population, Christian religious holidays are also present on the calendar. Even Buddha's birthday is celebrated as befits his status.
In addition, Hong Kong also has the friendly rule that the following Monday is a day off if the holiday falls on a Saturday or Sunday.


Back to overview: Hong Kong


Non-floating holidays
Non-statutory holidays are written in gray.
| Date | Holiday |
| --- | --- |
| Jan. 1st | New Year's Day |
| May 1st | Labour Day |
| July 1st | Hong Kong Special Administrative Region Establishment Day |
| Sept. 10th | Teacher's Day |
| Oct. 1st | National Day |
| Dec. 25th | Christmas Day |
| Dec. 26th | Boxing Day |
Moving Holidays in Hong Kong
| Holiday | 2023 | 2024 | 2025 | 2026 | 2027 |
| --- | --- | --- | --- | --- | --- |
| Lunar New Year's Day | Jan. 22nd | Feb. 10th | Jan. 29th | Feb. 17th | Feb. 6th |
| Second day of Lunar New Year | Jan. 23rd | Feb. 11th | Jan. 30th | Feb. 18th | Feb. 7th |
| Third day of Lunar New Year | Jan. 24th | Feb. 12th | Jan. 31st | Feb. 19th | Feb. 8th |
| Fourth day of Lunar New Year | Jan. 25th | Feb. 13th | Feb. 1st | Feb. 20th | Feb. 9th |
| Lantern Festival | Feb. 5th | Feb. 24th | Feb. 12th | March 3rd | Feb. 20th |
| Tomb-Sweeping | April 5th | April 4th | April 4th | April 5th | April 5th |
| Good Friday | April 7th | March 29th | April 18th | April 3rd | March 26th |
| Easter Sunday | April 9th | March 31st | April 20th | April 5th | March 28th |
| Easter Monday | April 10th | April 1st | April 21st | April 6th | March 29th |
| Mother's Day | May 14th | May 12th | May 11th | May 10th | May 9th |
| Father's Day | June 18th | June 16th | June 15th | June 21st | June 20th |
| Dragon Boat Festival | June 22nd | June 10th | May 31st | June 19th | June 9th |
| Feast of lovers | Aug. 22nd | Aug. 10th | Aug. 29th | Aug. 19th | Aug. 8th |
| Ghost Festival | Aug. 30th | Aug. 18th | Sept. 6th | Aug. 27th | Aug. 16th |
| Buddha's Birthday | Sept. 18th | Sept. 6th | Sept. 25th | Sept. 14th | Sept. 4th |
| Mid-Autumn Festival | Sept. 29th | Sept. 17th | Oct. 6th | Sept. 25th | Sept. 15th |
| Confucius' Birthday | Oct. 9th | Sept. 27th | Oct. 16th | Oct. 5th | Sept. 25th |
| Double Ninth Festival | Oct. 23rd | Oct. 11th | Oct. 29th | Oct. 18th | Oct. 8th |
| Winter Solstice | Dec. 22nd | Dec. 21st | Dec. 21st | Dec. 22nd | Dec. 22nd |
Chinese Lunar Calendar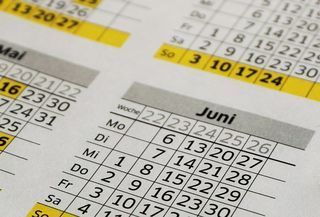 Around the globe, there are several calendars based on the moon's orbit. The Chinese "peasant calendar" is certainly the best known of these, but also one of the most complex. This makes it quite difficult to transfer a date correctly to other calendar systems. While a solar year usually has 365 days and a leap day is inserted every four years, the moon has a different rhythm. In 29.53 days, it completes its cycle once. After 12 lunar months, however, about 11 days are missing compared to the Gregorian calendar year. Instead of the leap days, entire leap months move.
The most important celebration in Hong Kong is the Chinese New Year. However, even this date cannot be calculated, but is determined by astronomers for each individual year. When a year begins and how long it lasts is known decades in advance, but ultimately, it is decided by a fascinating mix of astronomy and astrology.
The reserved way of celebrating
Anyone who has experienced the Chinese New Year in Hong Kong will have been surprised by the somewhat different way of celebrating. It is true that the stores decorate their display cases with all kinds of decorations days in advance. Red banners and symbols can be seen everywhere. However, this is far from comparable to the effort put into it in Western countries. Even on the day of the New Year's celebration, there is initially no indication of an upcoming mass event. Hong Kongers behave in a civilized and disciplined manner. Two hours before the most important event of the year, the streets are closed. For the kilometer-long route in the heart of Kowloon, the police need 20 minutes for this, then nothing happens at first. For the parade, however, the streets are packed and those who get standing room with a view of the parade and its sparkling dance and acrobatics groups are very lucky. There are none of the sausage or beer stands so popular in Western countries. No drinks, no food, no souvenirs. Once the parade is over, it takes less than an hour, then the streets are not only empty again, but also clean and cars are driving again, as if nothing had happened.
The same thing happens at the equally spectacular fireworks display the next evening. Two hours before, the first tourists arrive at the harbor promenade and wonder if today is the right day. At 8 p.m. on the dot, the picture is completely different: Thousands of people are crowded together at the edge of the harbor, and their eyes have to filter through cell phones held high in the air. Over the water, a 20-minute fireworks display worth nearly one million is orchestrated. No chips, no beer stands, no cotton candy. An hour after the fireworks, the streets are empty, clean and quiet again. Hong Kongers are just a little more disciplined than people elsewhere.