Member states of the EEU:
Eurasian Economic Union
The EEU is a trade agreement of currently 5 countries mainly located in Eastern Europe and in Central Asia.
All member states comprise a total area of
20.26 million km²
and about 181.45 million people. This is 13.4% of the habitable area around the world and 2.3% of the world population. With an economic output of 2,057.24 billion US dollars annually, they represent around 2.1 percent of the global economy. The value of all exported goods of these 5 countries was 672.50 billion US dollars per year at last count.
Official website:
http://www.eaeunion.org/?lang=en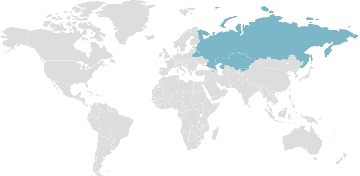 | Country | Commencement | Population | Area | GDP |
| --- | --- | --- | --- | --- |
| Armenia | 01/02/2015 | 2.97 M | 30,000 km² | 13.86 bn US$ |
| Belarus | 01/01/2015 | 9.34 M | 208,000 km² | 68.22 bn US$ |
| Kazakhstan | 01/01/2015 | 19.00 M | 2,725,000 km² | 190.81 bn US$ |
| Kyrgyzstan | 08/12/2015 | 6.69 M | 200,000 km² | 8.54 bn US$ |
| Russia | 01/01/2015 | 143.45 M | 17,098,000 km² | 1,775.80 bn US$ |