Members of the COMESSA:
Community of Sahel-Saharan States

The COMESSA is a trade agreement of currently 28 countries mainly located in Western Africa and in Eastern Africa.

All member states comprise a total area of 14.66 million km² and about 699.58 million people. This is 9.7% of the habitable area around the world and 9.0% of the world population. With an economic output of 1,384.12 bn US dollars annually, they represent around 2 percent of the global economy.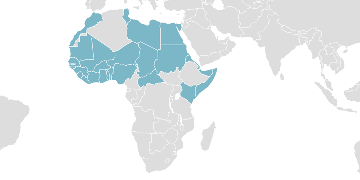 | Country | Commencement | Population | Area |
| --- | --- | --- | --- |
| Benin | 2002 | 12.12 M | 115,000 km² |
| Burkina Faso | 1998 | 20.90 M | 274,000 km² |
| Central Africa | 1999 | 4.83 M | 623,000 km² |
| Chad | 1998 | 16.43 M | 1,284,000 km² |
| Comoros | 2007 | 0.87 M | 1,861 km² |
| Djibouti | 2000 | 0.99 M | 23,000 km² |
| Egypt | 2001 | 102.33 M | 1,001,000 km² |
| Eritrea | 1999 | 3.50 M | 118,000 km² |
| Gambia | 2000 | 2.42 M | 11,000 km² |
| Ghana | 2005 | 31.07 M | 239,000 km² |
| Guinea | 2007 | 13.13 M | 246,000 km² |
| Guinea-Bissau | 2004 | 1.97 M | 36,000 km² |
| Ivory Coast | 2004 | 26.38 M | 322,000 km² |
| Kenya | 2008 | 53.77 M | 580,000 km² |
| Liberia | 2004 | 5.06 M | 111,000 km² |
| Libya | 1998 | 6.87 M | 1,760,000 km² |
| Mali | 1998 | 20.25 M | 1,240,000 km² |
| Mauritania | 2008 | 4.65 M | 1,031,000 km² |
| Morocco | 2001 | 36.91 M | 447,000 km² |
| Niger | 1998 | 24.21 M | 1,267,000 km² |
| Nigeria | 2001 | 206.14 M | 924,000 km² |
| Sao Tome and Principe | 2008 | 0.22 M | 960 km² |
| Senegal | 2000 | 16.74 M | 197,000 km² |
| Sierra Leone | 2005 | 7.98 M | 72,000 km² |
| Somalia | 2001 | 15.89 M | 638,000 km² |
| Sudan | 1998 | 43.85 M | 1,879,000 km² |
| Togo | 2002 | 8.28 M | 57,000 km² |
| Tunisia | 2001 | 11.82 M | 164,000 km² |