Members of the CEFTA:
Central European Free Trade Agreement
The CEFTA is a trade agreement of currently 7 countries in Southern Europe and in Eastern Europe.
All member states comprise a total area of
253,000 km²
and about 19.98 million people. This is 0.17% of the habitable area around the world and 0.26% of the world population. With an economic output of 146.27 billion US dollars annually, they represent around 0.15 percent of the global economy. The value of all exported goods of these 7 countries was 68.29 billion US dollars per year at last count.
Official website:
https://cefta.int/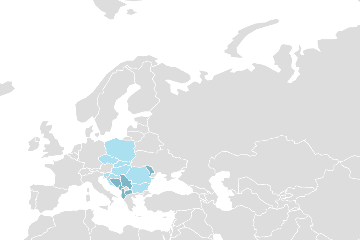 Former member countries
| Country | Exit | Population | Area | GDP |
| --- | --- | --- | --- | --- |
| Bulgaria | 2007 | 6.90 M | 111,000 km² | 80.27 bn US$ |
| Croatia | 2013 | 3.90 M | 57,000 km² | 67.84 bn US$ |
| Czechia | 2004 | 10.70 M | 79,000 km² | 282.34 bn US$ |
| Hungary | 2004 | 9.71 M | 93,000 km² | 182.28 bn US$ |
| Poland | 2004 | 37.78 M | 313,000 km² | 674.05 bn US$ |
| Romania | 2007 | 19.12 M | 238,000 km² | 284.09 bn US$ |
| Slovakia | 2004 | 5.45 M | 49,000 km² | 114.87 bn US$ |
| Slovenia | 2004 | 2.11 M | 21,000 km² | 61.53 bn US$ |