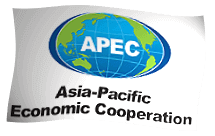 Members of the APEC - Asia-Pacific Economic Cooperation

The APEC is a trade agreement of currently 21 countries mainly located in Southeast Asia and in East Asia.

All member states comprise a total area of 62.87 million km² and about 2.92 billion people. This is 41.8% of the habitable area around the world and 38% of the world population. With an economic output of 52,764.68 trillion US dollars annually, they represent around 60 percent of the global economy.