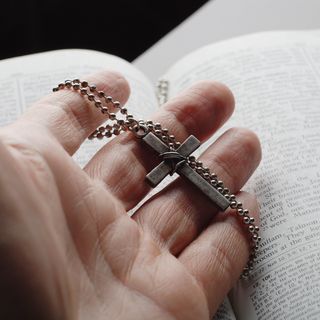 Catholic Churches
The Catholic churches form a denomination within Christianity and, with around 1.3 billion believers worldwide, are the largest
Christian
grouping. The Catholics are, in turn, divided into individual churches. The Roman Catholic Church refers to the Latin Church (Western Church). In addition, there are the Eastern Catholic Churches, which are again divided into Greek Catholic or Armenian Catholic Churches.
The head of the Catholic Church is the Pope, who is based in the Vatican.
History of the spread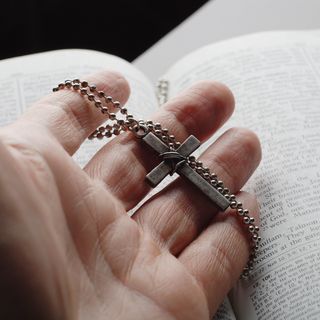 The Catholic Church has its origin in the person of Jesus Christ. The first Christian communities are dated to the years 30-35 C.E. It was considered an organized institution only a few decades later, when bishops took over the presidency of the congregations. The first head of the church is considered to be the apostle and bishop of Rome, Peter, who died as a martyr in 67 C.E.
Despite a general tolerance and freedom of religion in the Roman Empire, Christians were persecuted several times and the practice of their faith was forbidden at times. Significant increases in the population first occurred towards the end of the second century, when Christians were largely tolerated and parts of the Roman upper class also professed Christianity. By the Middle Ages, the faith had become increasingly politicized and achieved its status as almost being the sole religion of the people.
Despite the changes that the Catholic Church has undergone over the last 2,000 years, it is still considered the most original Christian church today. The first secessions occurred in the eastern part of the Roman Empire, when the ancient Oriental Christians developed into the independent
Orthodox churches
from the end of the fifth century. More churches split off in the wake of the Reformation beginning in the early 16th century. While the more southern areas of Europe continued to recognize the pope as their head, the church lost large areas in northern and central Europe. Here, the formerly unified church split into Catholics,
Anglicans
and
Protestants
. The seafaring nations of Spain and Portugal, which remained Catholic, gave the church considerable growth through the conquered lands around the world. These initially included Central and South America, and later numerous countries in Africa and overseas.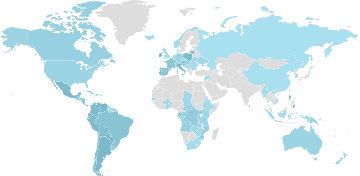 | Country | Distribution | Total |
| --- | --- | --- |
| Brazil | 64.6 % | 138,455,000 |
| Mexico | 82.7 % | 104,785,000 |
| Philippines | 82.9 % | 94,407,000 |
| United States of America | 23.9 % | 79,323,000 |
| Italy | 87.8 % | 51,898,000 |
| Democratic Republic of the Congo | 50.0 % | 47,947,000 |
| Colombia | 90.0 % | 46,365,000 |
| Spain | 94.0 % | 44,571,000 |
| Argentina | 92.0 % | 42,144,000 |
| France | 58.0 % | 39,295,000 |
| Poland | 87.0 % | 32,840,000 |
| Peru | 81.3 % | 27,411,000 |
| Venezuela | 96.0 % | 27,072,000 |
| Germany | 28.5 % | 23,711,000 |
| Uganda | 41.9 % | 19,213,000 |
| Canada | 39.0 % | 14,916,000 |
| Ecuador | 74.0 % | 13,170,000 |
| Angola | 38.0 % | 13,111,000 |
| Chile | 66.7 % | 13,002,000 |
| Kenya | 23.3 % | 12,350,000 |
| Dominican Republic | 95.0 % | 10,562,000 |
| Honduras | 97.0 % | 9,970,000 |
| Bolivia | 76.8 % | 9,277,000 |
| Mozambique | 28.4 % | 9,110,000 |
| Belgium | 75.0 % | 8,695,000 |
| Portugal | 81.0 % | 8,363,000 |
| Guatemala | 47.0 % | 8,042,000 |
| Indonesia | 2.9 % | 7,939,000 |
| Burundi | 62.1 % | 7,794,000 |
| Cuba | 65.0 % | 7,317,000 |
| Rwanda | 49.5 % | 6,664,000 |
| Vietnam | 6.8 % | 6,628,000 |
| Austria | 73.8 % | 6,609,000 |
| Australia | 25.3 % | 6,499,000 |
| Ukraine | 14.4 % | 6,306,000 |
| Haiti | 54.7 % | 6,262,000 |
| Paraguay | 89.6 % | 6,007,000 |
| China | 0.4 % | 5,703,000 |
| Netherlands | 28.0 % | 4,909,000 |
| Ghana | 13.1 % | 4,301,000 |
| Ireland | 84.7 % | 4,263,000 |
| South Africa | 7.1 % | 4,217,000 |
| Burkina Faso | 19.0 % | 4,199,000 |
| Nicaragua | 58.5 % | 4,008,000 |
| Zambia | 20.2 % | 3,934,000 |
| South Korea | 7.6 % | 3,933,000 |
| Costa Rica | 76.3 % | 3,932,000 |
| Hungary | 39.0 % | 3,787,000 |
| Panama | 85.0 % | 3,699,000 |
| El Salvador | 57.1 % | 3,605,000 |
| Slovakia | 65.8 % | 3,584,000 |
| Benin | 27.1 % | 3,522,000 |
| Chad | 20.1 % | 3,453,000 |
| Croatia | 86.3 % | 3,365,000 |
| Switzerland | 38.2 % | 3,325,000 |
| Puerto Rico | 85.0 % | 2,774,000 |
| Papua New Guinea | 27.0 % | 2,686,000 |
| Lithuania | 77.2 % | 2,162,000 |
| Republic of the Congo | 33.1 % | 1,932,000 |
| Uruguay | 47.1 % | 1,614,000 |
| Central African Republic | 25.0 % | 1,364,000 |
| Sri Lanka | 6.1 % | 1,352,000 |
| Zimbabwe | 8.4 % | 1,343,000 |
| East Timor | 96.9 % | 1,280,000 |
| Slovenia | 57.8 % | 1,218,000 |
| Czechia | 10.4 % | 1,093,000 |
| Gabon | 43.0 % | 1,007,000 |
| Senegal | 5.0 % | 844,000 |
| Ethiopia | 0.7 % | 842,000 |
| Romania | 4.3 % | 822,000 |
| New Zealand | 11.6 % | 594,000 |
| Luxembourg | 87.0 % | 557,000 |
| Myanmar | 1.0 % | 538,000 |
| Bosnia and Herzegovina | 15.2 % | 497,000 |
| Malta | 90.0 % | 467,000 |
| Cape Verde | 77.3 % | 454,000 |
| Russia | 0.3 % | 430,000 |
| Singapore | 7.1 % | 387,000 |
| Hong Kong | 5.0 % | 371,000 |
| Serbia | 5.0 % | 342,000 |
| Mauritius | 26.3 % | 333,000 |
| Trinidad and Tobago | 21.6 % | 330,000 |
| Albania | 10.0 % | 281,000 |
| Lebanon | 5.0 % | 280,000 |
| Eswatini | 20.0 % | 238,000 |
| Eritrea | 5.0 % | 181,000 |
| Denmark | 3.0 % | 176,000 |
| New Caledonia | 60.0 % | 163,000 |
| Belize | 40.1 % | 160,000 |
| Guam | 85.0 % | 145,000 |
| Suriname | 22.8 % | 140,000 |
| Solomon Islands | 19.6 % | 139,000 |
| Sao Tome and Principe | 55.7 % | 124,000 |
| Curacao | 72.8 % | 111,000 |
| Saint Lucia | 61.5 % | 110,000 |
| Macao | 15.0 % | 103,000 |
| Norway | 1.8 % | 97,000 |
| French Polynesia | 30.0 % | 91,000 |
| Fiji | 9.1 % | 84,000 |
| Aruba | 75.3 % | 80,000 |
| Seychelles | 76.2 % | 76,000 |
| Kiribati | 55.8 % | 72,000 |
| Guyana | 8.1 % | 65,000 |
| Jamaica | 2.2 % | 62,000 |
| Federated States of Micronesia | 54.7 % | 62,000 |
| Grenada | 44.6 % | 56,000 |
| Bulgaria | 0.8 % | 55,000 |
| Bahamas | 12.0 % | 49,000 |
| Dominica | 61.4 % | 44,000 |
| Samoa | 19.4 % | 42,000 |
| Vanuatu | 12.4 % | 40,000 |
| Kosovo | 2.2 % | 39,000 |
| Cyprus | 2.9 % | 36,000 |
| Virgin Islands | 34.0 % | 36,000 |
| Principality of Monaco | 90.0 % | 33,000 |
| Georgia | 0.8 % | 30,000 |
| Liechtenstein | 75.9 % | 30,000 |
| Gibraltar | 78.1 % | 26,000 |
| Montenegro | 3.4 % | 21,000 |
| Sint Maarten | 39.0 % | 17,000 |
| Caribbean Netherlands | 68.0 % | 17,000 |
| Tonga | 15.6 % | 17,000 |
| Comoros | 2.0 % | 16,000 |
| Wallis and Futuna | 99.0 % | 16,000 |
| Saint Vincent and the Grenadines | 13.0 % | 14,000 |
| Iceland | 3.6 % | 13,000 |
| Barbados | 3.8 % | 11,000 |
| Cayman Islands | 14.1 % | 10,000 |
| Bermuda | 14.5 % | 9,000 |
| American Samoa | 20.0 % | 9,000 |
| Palau | 49.4 % | 9,000 |
| Antigua and Barbuda | 8.2 % | 8,000 |
| Saint Pierre and Miquelon | 99.0 % | 5,000 |
| Turks and Caicos Islands | 11.4 % | 5,000 |
| Nauru | 33.0 % | 4,000 |
| Marshall Islands | 8.4 % | 4,000 |
| British Virgin Islands | 9.5 % | 3,000 |
| Cook Islands | 17.0 % | 1,000 |
| Anguilla | 5.7 % | 1,000 |
| Vatican City | 100.0 % | 1,000 |
| Montserrat | 11.6 % | 600 |
| Tokelau | 36.6 % | 600 |
| Norfolk Island | 11.7 % | 200 |
| Niue | 10.0 % | 200 |
| Åland Islands | 0.3 % | 100 |