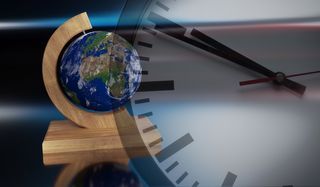 Timezones and time changes in Spain
There are 2 different timezones in Spain. Countries with a large distance from west to east are often devided into two or more timezones to adjust daytimes to the position of the sun. Timezones are always computed relative to UTC, the "Universal Time Coordinated".
In Spain, there is a time difference of one hour between the east and the west. They have a nationwide clock change from standard time to daylight saving time, where the clocks are switched forward by one hour in summer.
The next clock change in Madrid will be on October 29th, 2023 at 3:00 to standard time. The clocks are then set back one hour.
Back to overview: Spain
Current time in Madrid:
00:00
May 2023
Timezones by region
Spain is located in the southwest of Europe and therefore actually not where the Central European Time Zone would specify the optimal time. This is because the sun should normally be at its highest at noon, around 12 o'clock. However, Spain decided to use Central European Time (CET) as early as 1940 for several reasons. First of all, these are economic reasons. This is the only way to have the same time with most business partners in the EU. Due to this decision, the perceived times of day shift significantly. While it gets light in the middle of Europe at 4:40 a.m. in summer, you have to wait a whole 2 hours longer in Madrid. In the evening and especially in winter, however, the difference is less significant, since the country is also much further south and the days are shorter then anyway.
By the way, neighboring Portugal in the west has tried the CET several times in the past decades. Once from 1966 to 1976 and another time for only 4 more years from 1992 to 1996, but finally the Portuguese decided to move their time back by 1 hour.
On Spain's mainland and also in the Spanish exclave of Ceuta in the north of Africa, CET therefore applies in winter. This time zone also applies to the Balearic Islands, which are located in the Mediterranean Sea. In summer, the whole of Spain sets its clocks 1 hour ahead to daylight saving time (CEST).
The latter even applies to the Canary Islands, although it is still one hour later there. Western European Time applies there. The Canary Islands consist of the well-known islands Tenerife, Gran Canaria, Fuerteventura and Arrecife and lie far in the southwest before the African coast. So far south, you wouldn't really need daylight saving time, because the equator is so close that the difference in the position of the sun between summer and winter isn't that noticeable. But again, if you have a lot to do with the Spanish mainland, you gain significant advantages by having the same time zone.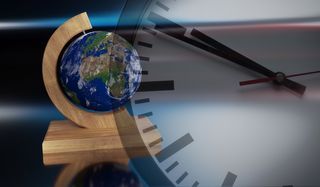 The next clock changes in Madrid
| Date | Local time | Change |
| --- | --- | --- |
| Mar 26, 2023 | 2:00 am | +1 hour to daylight saving time |
| Oct 29, 2023 | 3:00 am | -1 hour to standard time |
| Mar 31, 2024 | 2:00 am | +1 hour to daylight saving time |
| Oct 27, 2024 | 3:00 am | -1 hour to standard time |
| Mar 30, 2025 | 2:00 am | +1 hour to daylight saving time |
| Oct 26, 2025 | 3:00 am | -1 hour to standard time |
| Mar 29, 2026 | 2:00 am | +1 hour to daylight saving time |
| Oct 25, 2026 | 3:00 am | -1 hour to standard time |
| Mar 28, 2027 | 2:00 am | +1 hour to daylight saving time |