Spain
Parliamentary constitutional monarchy
Independent since 1492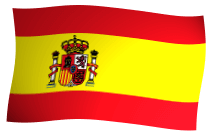 Official:
Kingdom of Spain
Local name:
España
Region:
Southern Europe
Area:
505,935 km²
Capital:
Madrid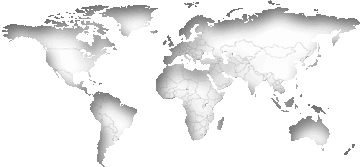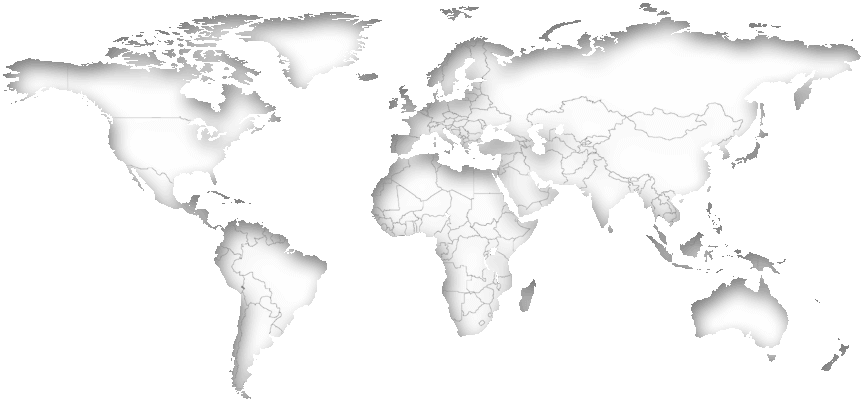 Geography
Spain is a country on the Iberian Peninsula on the Atlantic and Mediterranean coast. The land has a total area of 505,935 km² (195,342 mi²) and a total coastline of 4,964 km (3,084.5 mi). This land area is approximately 73% of the area of Texas. Spain is thus one of the largest countries in Europe and the 52nd biggest in the world. An exceptionally high proportion of residents (81%) belongs to the urban population.
Spain lies at an average elevation of 660 meters above sea level. The highest mountain peak (Pico del Teide in Tenerife) is at 3,718 meters. The country has about 100
islands
. There are direct national borders with the five neighboring countries
Andorra
,
France
,
Morocco
,
Gibraltar
and
Portugal
. The distance between New York City and the Capital Madrid is about 5,770 km (3,585 mi).
On further pages:
Population
Life expectancy females:
Ø 85.1 years
Males/Females:
49.0% : 51.0%
Population pyramid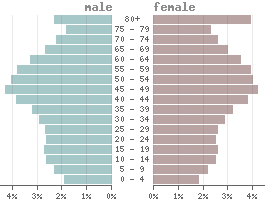 The currency in Spain is
the euro (EUR).
1 Euro is divided into 100 Cent.
Status: 03/24/2023
1 US dollar = 0.93 Euros
1 Euro = 1.07 US dollar
The climate in Spain
Spain's location between the Atlantic Ocean and the Mediterranean Sea and the Pyrenees in the north create different climate zones throughout the country. While Atlantic air in the west ensures mild temperatures all year round, it is much warmer along the Mediterranean with partly tropical humidity. Near the Mediterranean Sea, most of the precipitation falls in autumn. The northern mountain regions, on the other hand, are the coolest areas. It is considerably warmer on the Canary Islands, which are located about 1,000 km from the Spanish mainland on the coast of Africa. Here the climate is consistently subtropical and even in January it is rarely below 20°C during the day.
Average daytime and nighttime temperatures


Languages
Official languages:
Spanish (Castilian) throughout the country, as well as Catalan and Aranese in the Autonomous Community of Catalonia, Valencian in Valencia and the Balearic Islands, Galician in Galicia, Basque in the Basque Country and parts of Navarre.
| Mother tongue | Distribution |
| --- | --- |
| Spanish | 74.0 % |
| Catalan | 17.0 % |
| Galician | 7.0 % |
| Basque | 2.0 % |
more...
Economy
With a Human Development Index (HDI) of 0.905, Spain counts as one of the high developed economies by UN definition. The IMF also shares this classification.
In terms of revenues, the Philippines ranks only 39th in the world and, with an
average annual income
of 29,690 USD is one of the high-income countries.
Land use
| | |
| --- | --- |
| 14% Urban areas: | 69,795 km² |
| 53% Agricultural areas: | 265,666 km² |
| 37% Forest: | 188,056 km² |
| 1% Water areas: | 6,371 km² |
more...
Transport
| | |
| --- | --- |
| Roadways: | 683,175 km |
| Railways: | 15,718 km |
| Waterways: | 1,000 km |
| Commercial harbors: | 478 |
| › Airports: | 38 |
Most important cities
| City | Region | Population |
| --- | --- | --- |
| Madrid / Capital | Madrid | 3,223,000 |
| Barcelona | Catalonia | 1,620,000 |
| Valencia | Valencia | 790,000 |
| Sevilla | Andalusia | 689,000 |
| Zaragoza | Aragon | 666,000 |
| Málaga | Andalusia | 570,000 |
| Murcia | Murcia | 445,000 |
| Palma | Balearic Islands | 408,000 |
| Las Palmas de Gran Canaria | Canary Islands | 378,000 |
| Bilbao | Basque Country | 345,000 |
| Alicante | Valencia | 331,000 |
| Córdoba | Andalusia | 326,000 |
| Valladolid | Castille and León | 299,000 |
| Vigo | Galicia | 293,000 |
| Gijón | Asturias | 272,000 |
| L'Hospitalet de Llobregat | Catalonia | 259,000 |
| A Coruña | Galicia | 244,000 |
| Gasteiz / Vitoria | Basque Country | 236,000 |
| Granada | Andalusia | 232,000 |
| Oviedo | Asturias | 220,000 |
| Móstoles | Madrid | 207,000 |
| Pamplona | Navarre | 198,000 |
| Santander | Cantabria | 172,000 |
| Logroño | La Rioja | 151,000 |
| Santiago de Compostela | Galicia | 95,000 |
| Toledo | Castille-La Mancha | 82,000 |
| Ceuta | Ceuta | 79,000 |
| Melilla | Melilla | 73,000 |
| Mérida | Extremadura | 56,000 |
Political indicators
(Based on the "Worldwide Governance Indicators" project of the World Bank)
| | |
| --- | --- |
| Political stability: | ◈ |
| Rule of law: | ◈ |
| Effectivity: | ◈ |
| Regulatory quality: | ◈ |
| Voice accountability: | ◈ |
| Death penalty: | abolished in 1995 |
Existing trade agreements
Alliances