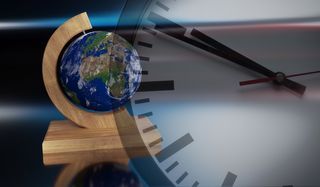 Timezones and time changes in Portugal
There are two different time zones in Portugal. On the European mainland, Western European Time applies. The archipelago of Madeira, which belongs to Portugal, is located about 950 km southwest of Lisbon off the coast of Morocco and has the same time zone. Only the Portuguese Azores are located so far west in the Atlantic Ocean that they have their own time zone. Nationwide, also on the Azores, the clock is set one hour ahead to daylight saving time in spring and back again in autumn.
The next clock change in Lisbon will be on October 29th, 2023 at 2:00 to standard time. The clocks are then set back one hour.
Back to overview: Portugal
Current time in Lisbon:
00:00
May 2023
Timezones by region
Western European Time, GMT and UTC
These three terms are confusing, especially since they all express the same time. UTC is the so-called coordinated universal time. This world time does not know any time changes and defines the time which prevails by default on the zero degree of longitude. However, it is not a zone, but an international standard to which the time zones are oriented. In practice, UTC corresponds exactly to what
Greenwich Mean Time
(GMT) also expresses: the time at the prime meridian. This runs through the London district of Greenwich, which is also where the name comes from.
Greenwich Mean Time is therefore a time zone like the
Western European Time
valid in Portugal. And both have also the same time, namely UTC+0. Why one differentiates now between the West European time and the Greenwich Mean, has purely political reasons. With the affiliation to a time zone, not only the current time is determined, but also the daylight saving time regulation.
Change between Western and Central European Time
Portugal has changed its time zone several times. From 1966 to 1976 and from 1992 to 1996, continental Portugal, i.e. excluding the Azores, chose Central European Time. Geographically, this was not quite optimal, since Portugal lies much too far to the west. The sun was then no longer at its highest at noon, but only at around 1:30 pm. However, trade, transport and the economy are simplified with a uniform time zone, because Central European Time already applies in the direct neighboring country of
Spain
.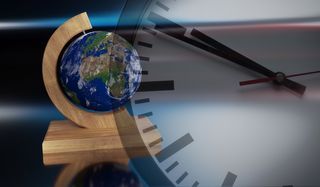 The next clock changes in Lisbon
| Date | Local time | Change |
| --- | --- | --- |
| Mar 26, 2023 | 1:00 am | +1 hour to daylight saving time |
| Oct 29, 2023 | 2:00 am | -1 hour to standard time |
| Mar 31, 2024 | 1:00 am | +1 hour to daylight saving time |
| Oct 27, 2024 | 2:00 am | -1 hour to standard time |
| Mar 30, 2025 | 1:00 am | +1 hour to daylight saving time |
| Oct 26, 2025 | 2:00 am | -1 hour to standard time |
| Mar 29, 2026 | 1:00 am | +1 hour to daylight saving time |
| Oct 25, 2026 | 2:00 am | -1 hour to standard time |
| Mar 28, 2027 | 1:00 am | +1 hour to daylight saving time |