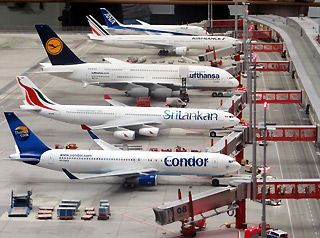 The 18 largest airports and airlines in Portugal
Further information is provided on the 18 biggest airports in Portugal. At Humberto Delgado Airport (Lisbon Portela Airport) alone, 44 airlines operate and serve flights to and from 103 destinations.
Out of the six airlines of the country we have listed biggest 6. TAP Air Portugal is leading here with a total of 93 flight destinations.
›
Transport + infrastructure in Portugal
›
The largest airports worldwide
Back to overview: Portugal
The 18 biggest airports in Portugal
Freight volume
In 2021, a total of 500.44 million ton-kilometers (= total mass transported in tons multiplied by kilometers traveled) of cargo was moved by air in Portugal.
The biggest airlines based in Portugal
The largest airline in the country with scheduled passenger traffic and in terms of fleet size is TAP Air Portugal. In 2021, it carried 5.83 million passengers. It currently has a fleet of 75 aircrafts. The main airlines for civil passenger traffic in Portugal are:
| IATA | Name | Callsign | Fleet size | Destinations |
| --- | --- | --- | --- | --- |
| TP | TAP Air Portugal | Air Portugal | 75 | 93 |
| NI | TAP Express | Portugal Express | 20 | 23 |
| S4 | Azores Airlines | Air Azores | 8 | 17 |
| SP | SATA Air Acores | Sata | 6 | 13 |
| MM | EuroAtlantic Airways | Euroatlantic | 6 | 2 |
| 5K | Hi Fly | Sky Flyer | 2 | 6 |