North Macedonia
Parliamentary republic
Independent since 1991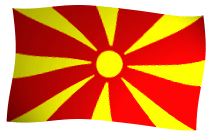 Official:
Republic of North Macedonia
Local name:
Северна Македонија / Maqedonisë së Veriut
Region:
Southern Europe
Area:
25,710 km²
Capital:
Skopje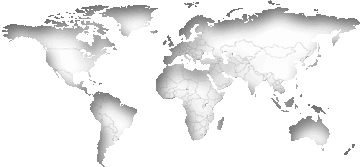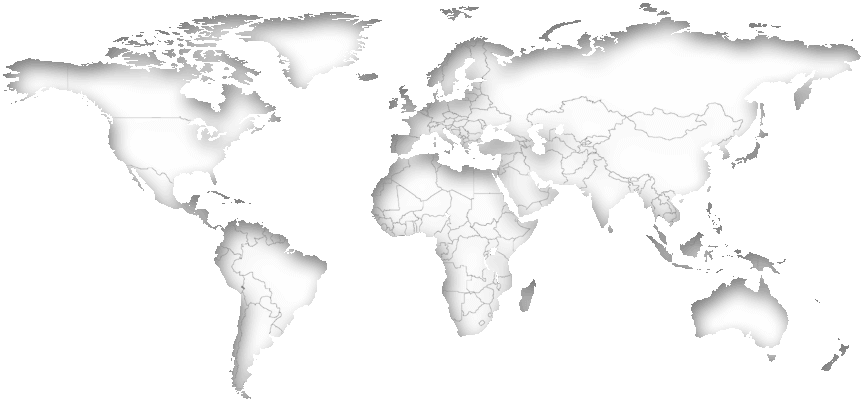 Geography
North Macedonia is a landlocked country on the Balkan peninsula in southeastern Europe. The land has a total area of 25,710 km² (9,927 mi²). This land area is approximately 102% of the area of Maryland. North Macedonia is thus the 17th smallest country in Europe and ranked 150th in the world. More than half of all residents (59%) live within cities. More than every fourth inhabitant lives in Skopje.
North Macedonia lies at an average elevation of 741 meters above sea level. The highest mountain peak (Golem Korab) is at 2,764 meters. There is no access to the open sea. There are direct national borders with the five neighboring countries
Albania
,
Bulgaria
,
Greece
,
Kosovo
and
Serbia
. The distance between New York City and the Capital Skopje is about 7,510 km (4,666 mi).
On further pages:
Current time in North Macedonia:
00:00
June 2023
The countrywide time in North Macedonia is
Central European Time (CET)
.
As in many countries far away from the equator, there is a daylight savings time in the summer. Related to GMT, the time difference is usually +1 hours in summer and +2 hours in winter. The next time change will be on October 29 at 2:00 am (local time).
Time zones and clock changes
Sunrise and sunset
Population
Life expectancy females:
Ø 76.8 years
Males/Females:
49.9% : 50.1%
Population pyramid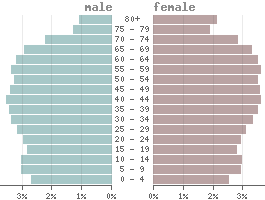 The currency in North Macedonia is
the denar (MKD).
1 Denar is divided into 100 Deni.
Status: 06/09/2023
1 US dollar = 56.97 Denars
1000 Denars = 17.55 US dollar
The climate in North Macedonia
A moderate climate zone determines the weather in North Macedonia. As usual in the northern hemisphere, the days in the summer months are not only warmer but also longer. Depending on the season, the average daytime temperatures range between 5 and 32 degrees. In some parts of the country, the temperature rises to 34 °C. In the colder months, and depending in the region, the temperature drops to -3 °C in a month's average.
Average daytime and nighttime temperatures


Languages
Official languages:
Macedonian, Albanian
Religions
| Religion | Distribution |
| --- | --- |
| Orthodoxes | 64.8% |
| other Christs | 0.4% |
| Muslims | 33.3% |
| other | 1.5% |
more...
Economy
According to the definition from the International Monetary Fund (IMF), North Macedonia is a
developing country
because of its lower economic performance.
In terms of revenues, North Macedonia ranks only 79th in the world and, with an
average annual income
of 6,190 USD is one of the upper middle-income countries.
Land use
| | |
| --- | --- |
| 10% Urban areas: | 2,667 km² |
| 50% Agricultural areas: | 12,876 km² |
| 40% Forest: | 10,209 km² |
| 2% Water areas: | 490 km² |
more...
Transport
| | |
| --- | --- |
| Roadways: | 14,182 km |
| Railways: | 683 km |
| › Airports: | 1 |
Most important cities
| City | Region | Population |
| --- | --- | --- |
| Skopje / Capital | Skopje | 547,000 |
| Kumanovo | Northeast | 107,000 |
| Bitola | Pelagonia | 87,000 |
| Prilep | Pelagonia | 74,000 |
| Tetovo | Polog | 73,000 |
| Cair | Skopje | 65,000 |
| Kisela Voda | Skopje | 58,000 |
| Veles | Vardar | 58,000 |
| Ohrid | Southwest | 55,000 |
| Gostivar | Polog | 51,000 |
| Shtip | East | 48,000 |
| Strumica | Southeast | 46,000 |
| Centar Župa | Southwest | 45,000 |
| Kavadarci | Vardar | 39,000 |
| Struga | Southwest | 37,000 |
| Butel | Skopje | 36,000 |
| Kochani | East | 34,000 |
| Kicevo | Southwest | 31,000 |
| Lipkovo | Northeast | 28,000 |
| Zhelino | Polog | 25,000 |
| Saraj | Skopje | 25,000 |
| Radovish | Southeast | 25,000 |
| Tearce | Polog | 23,000 |
| Kriva Palanka | Northeast | 21,000 |
| Šuto Orizare | Skopje | 21,000 |
| Gevgelija | Southeast | 21,000 |
| Negotino | Vardar | 20,000 |
| Studenichani | Skopje | 18,000 |
| Vinica | East | 18,000 |
Political indicators
(Based on the "Worldwide Governance Indicators" project of the World Bank)
| | |
| --- | --- |
| Political stability: | ◈ |
| Rule of law: | ◈ |
| Effectivity: | ◈ |
| Regulatory quality: | ◈ |
| Voice accountability: | ◈ |
| Death penalty: | abolished in 1991 |
Existing trade agreements
Alliances