Kosovo
Parliamentary republic
Independent since 2008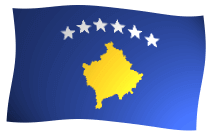 Official:
Republic of Kosovo
Local name:
Kosova
Region:
Southern Europe
Area:
10,887 km²
Capital:
Pristina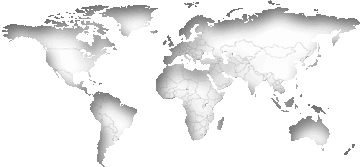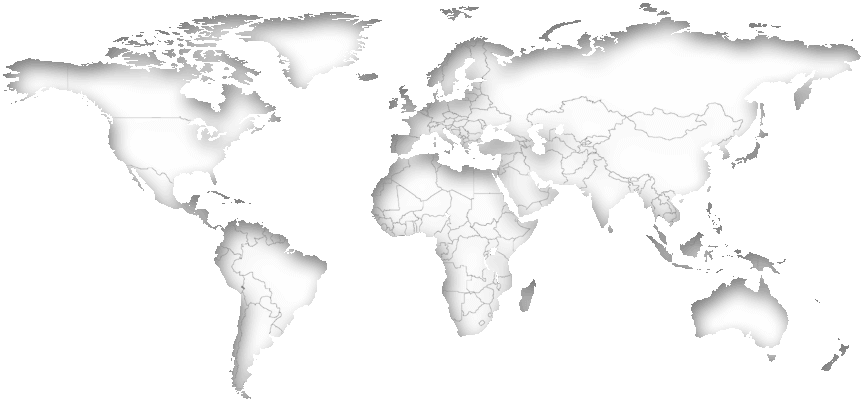 Geography
The Kosovo is a landlocked country in the southeastern European Balkans. The land has a total area of 10,887 km² (4,203 mi²). This land area is approximately 104% of the area of Hawaii. The Kosovo is thus one of the smallest countries in Europe by area and ranked 168th worldwide.
The highest mountain peak (Đeravica) is at 2,656 meters. There is no access to the open sea. There are direct national borders with the four neighboring countries
Albania
,
North Macedonia
,
Montenegro
and
Serbia
. The distance between New York City and the Capital Pristina is about 7,450 km (4,629 mi).
On further pages:
Population
Life expectancy females:
Ø 79.3 years
Males/Females:
49.8% : 50.2%
Population pyramid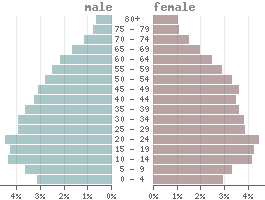 The currency in the Kosovo is
the euro (EUR).
1 Euro is divided into 100 Cent.
Status: 03/24/2023
1 US dollar = 0.93 Euros
1 Euro = 1.07 US dollar
The climate in the Kosovo
A moderate climate zone determines the weather in the Kosovo. As usual in the northern hemisphere, the days in the summer months are not only warmer but also longer. Depending on the season, the average daytime temperatures range between 5 and 33 degrees. In the colder months, and depending in the region, the temperature drops to -2 °C in a month's average.
Average daytime and nighttime temperatures


Languages
Official languages:
Albanian, Serbian
Religions
| Religion | Distribution |
| --- | --- |
| Orthodoxes | 1.5% |
| Roman Catholics | 2.2% |
| Muslims | 95.6% |
| other | 0.7% |
Economy
According to the definition from the International Monetary Fund (IMF), the Kosovo is a
developing country
because of its lower economic performance. The Kosovo is regarded as a so-called
pariah state
because of its politics and unwillingness to cooperate with the UN.
In terms of revenues, the Philippines still ranks 105th in the world and, with an
average annual income
of 5,130 USD is one of the upper middle-income countries.
more...
Transport
| | |
| --- | --- |
| Roadways: | 2,012 km |
| Railways: | 333 km |
| › Airports: | 1 |
Independence of Kosovo
In 2008, Kosovo declared its independence from Serbia, but its status under international law is still controversial and there is often talk of a stabilized de facto regime. Kosovo is not yet a member of the
United Nations
, although more than half of the UN member states already recognize its sovereignty. See also:
What is a country?
Most important cities
| City | Region | Population |
| --- | --- | --- |
| Pristina / Capital | Pristina | 211,000 |
| Prizren | Prizren | 171,000 |
| Mitrovicë | Mitrovica | 107,000 |
| Gjakovë | Gjakova | 94,000 |
| Pejë | Pec | 82,000 |
| Suva Reka | Prizren | 72,000 |
| Ferizaj | Ferizaj | 60,000 |
| Glogovac | Pristina | 59,000 |
| Gjilan | Gjilan | 52,000 |
| Deçan | Gjakova | 51,000 |
| Vitina | Gjilan | 47,000 |
| Istok | Pec | 40,000 |
| Dragash | Prizren | 35,000 |
| Podujeva | Pristina | 35,000 |
| Shtime | Ferizaj | 35,000 |
| Vushtrri | Mitrovica | 31,000 |
| Orahovac | Gjakova | 22,000 |
| Llazicë | Prizren | 20,000 |
| Leposaviq | Mitrovica | 19,000 |
| Zvecan | Mitrovica | 17,000 |
| Kosovo Polje | Pristina | 16,000 |
| Kacanik | Ferizaj | 9,800 |
| Hani i Elezit | Ferizaj | 9,390 |
| Kamenica | Gjilan | 9,310 |
| Klina | Pec | 8,050 |
Political indicators
(Based on the "Worldwide Governance Indicators" project of the World Bank)
| | |
| --- | --- |
| Political stability: | ◈ |
| Rule of law: | ◈ |
| Effectivity: | ◈ |
| Regulatory quality: | ◈ |
| Voice accountability: | ◈ |
Existing trade agreements