Greece
Parliamentary republic
Independent since 1830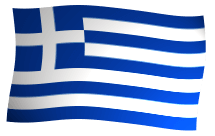 Official:
Hellenic Republic
Local name:
Ελλάδα / Elláda
Region:
Southern Europe
Area:
131,960 km²
Capital:
Athens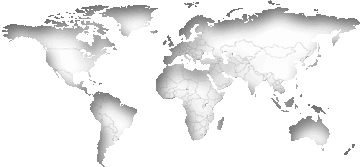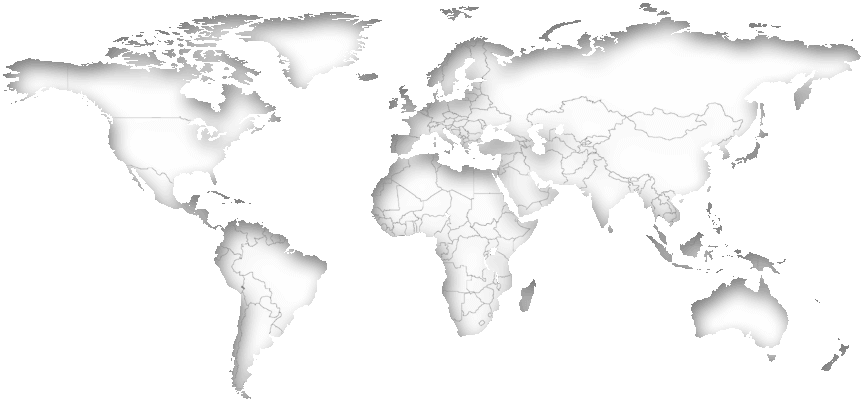 Geography
Greece is a country in the eastern Mediterranean. The land has a total area of 131,960 km² (50,950 mi²) and a total coastline of 13,676 km (8,497.9 mi). This land area is approximately 64% of the area of Minnesota. Greece is thus one of the largest countries in Europe and the 97th biggest in the world. An exceptionally high proportion of residents (80%) belongs to the urban population.
Greece is comparatively low at an average elevation of 498 meters above sea level. The highest mountain peak (Olymp) is at 2,917 meters. The country has 3,054 partially uninhabited
islands
in the open sea. There are direct national borders with the four neighboring countries
Albania
,
Bulgaria
,
Turkey
and
North Macedonia
. The distance between New York City and the Capital Athens is about 7,930 km (4,927 mi).
On further pages:
Population
Life expectancy females:
Ø 83.0 years
Males/Females:
49.0% : 51.0%
Population pyramid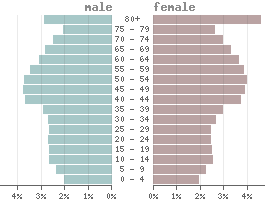 The currency in Greece is
the euro (EUR).
1 Euro is divided into 100 Cent.
Status: 05/31/2023
1 US dollar = 0.94 Euros
1 Euro = 1.07 US dollar
The climate in Greece
Greece has a Mediterranean climate with hot and dry summers, and mild and humid winters in the southern lowland and island regions. In the northern mountainous regions, on the other hand, winters are cold and there can even be heavy snowfall. The average summer temperature (April to September) is about 24 °C in Athens and southern Greece, while it is noticeably lower in the north. Apart from some heavy summer thunderstorms, precipitation is rare from June to August, and sunny and dry days are predominant. The dry, hot weather is often tempered by a system of seasonal breezes, most of which move inland from the Mediterranean.
Average daytime and nighttime temperatures


Languages
Official language:
Greek
Religions
State religion:
Greek Orthodox Church
| Religion | Distribution |
| --- | --- |
| Greek Orthodoxes | 98.0% |
| Muslims | 1.3% |
| other | 0.7% |
more...
Economy
With a Human Development Index (HDI) of 0.887, Greece counts as one of the high developed economies by UN definition. The IMF also shares this classification.
In terms of revenues, Greece ranks only 54th in the world and, with an
average annual income
of 20,000 USD is one of the high-income countries.
Land use
| | |
| --- | --- |
| 14% Urban areas: | 18,519 km² |
| 60% Agricultural areas: | 79,677 km² |
| 30% Forest: | 39,944 km² |
| 2% Water areas: | 3,060 km² |
more...
Transport
| | |
| --- | --- |
| Roadways: | 117,000 km |
| Railways: | 2,279 km |
| Waterways: | 6 km |
| Commercial harbors: | 1,236 |
| › Airports: | 37 |
Most important cities
| City | Region | Population |
| --- | --- | --- |
| Athens / Capital | Attica | 664,000 |
| Thessaloníki | Central Macedonia | 354,000 |
| Pátra | West Greece | 168,000 |
| Piraeus | Attica | 164,000 |
| Peristéri | Attica | 140,000 |
| Irákleion | Crete | 137,000 |
| Lárisa | Thessaly | 129,000 |
| Kallithéa | Attica | 101,000 |
| Acharnés | Attica | 99,000 |
| Kalamariá | Central Macedonia | 92,000 |
| Níkaia | Attica | 89,000 |
| Vólos | Thessaly | 84,000 |
| Ioánnina | Epirus | 66,000 |
| Lamía | Central Greece | 52,000 |
| Komotiní | East Macedonia and Thrace | 46,000 |
| Kozáni | West Macedonia | 36,000 |
| Mytilíni | North Aegean | 28,000 |
| Kérkyra | Ionian Islands | 27,000 |
| Trípoli | Peloponnese | 27,000 |
| Ermoúpolis | South Aegean | 11,000 |
Political indicators
(Based on the "Worldwide Governance Indicators" project of the World Bank)
| | |
| --- | --- |
| Political stability: | ◈ |
| Rule of law: | ◈ |
| Effectivity: | ◈ |
| Regulatory quality: | ◈ |
| Voice accountability: | ◈ |
| Death penalty: | abolished in 2004 |
Existing trade agreements
Alliances