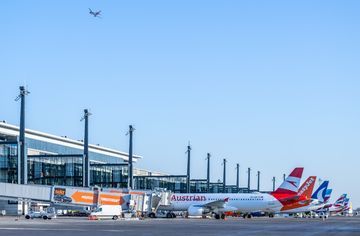 The largest airports in Germany
What is a "commercial airport" is regulated in Germany by the state aviation authority in § 38 of the Air Traffic Licensing Regulations (LuftVZO). Besides some special airports, these are mainly those serving commercial and general aviation. In total, there are 16 international airports, 12 of which are considered major airports with over 50,000 passengers anually. With more than 500,000 aircraft movements and 70 million passengers per year, Frankfurt Airport is the largest in the country.
Oldest airport: Hamburg
The oldest airport in Germany still in operation today is Hamburg Airport, which opened in 1911. In 2016 it was renamed from "Hamburg-Fuhlsbüttel" to "Hamburg Airport Helmut Schmidt". At the time of its foundation it was used for airships. It survived the Second World War almost undamaged and was thus expanded and used by the British occupation forces. An extensive modernization with a new terminal and new piers began in the 90s. Another fundamental reconstruction took place shortly after the turn of the millennium.
Freight volume
In 2021, a total of 11.53 billion ton-kilometers (= total mass transported in tons multiplied by kilometers traveled) of cargo was moved by air in Germany. Frankfurt on the Main Airport alone accounted for around 2.01 million metric tons.
The largest airlines based in Germany
Airlines are mainly divided into the areas of passenger transport, freight transport, charter flights and ambulance services. In addition, there are further classifications such as military and government service providers and also subdivisions into, e.g., low-cost airlines. In addition, there are charter companies that partly or exclusively carry out individual flights on behalf of the customer.
By far the largest German airline is the formerly state-owned Lufthansa, which has been fully privatized since 1997. It takes on tasks from all the areas mentioned above. Cargo flights are carried out both by the airline and by its subsidiary Lufthansa Cargo. Its hubs are at the major airports in Frankfurt and Munich, from where other international airlines also offer a large proportion of intercontinental flights.
| IATA | Name | Callsign | Fleet size | Destinations |
| --- | --- | --- | --- | --- |
| LH | Lufthansa | Lufthansa | 281 | 220 |
| E2 | Eurowings | Eurowings | 80 | 130 |
| DE | Condor | Condor | 53 | 81 |
| CL | Lufthansa CityLine | Hansaline | 51 | 50 |
| X3 | TUI fly Deutschland | Tui Jet | 22 | 18 |
| 4Y | Eurowings Discover | Ocean | 21 | 58 |
| 7E | Sylt Air | Sylt-air | 10 | 2 |
| SR | Sundair | Sundair | 9 | 23 |