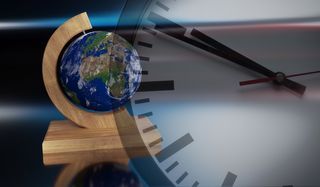 Timezone and DST in France
Timezones are always computed by their difference to UTC, the "Universal Time Coordinated". In France there is only a single tonezone at UTC+2. For example, New York is currently at UTC-4 in Eastern Time, so the time difference between New York and France is 6 hours.
They have a nationwide clock change from standard time to daylight saving time, where the clocks are switched forward by one hour in summer.
The next clock change in France will be on October 29th, 2023 at 3:00 to standard time. The clocks are then set back one hour.
Back to overview: France
Current time in all regions of France:
00:00
May 2023
Only 1 nationwide time zone
How many time zones does France have?
That depends entirely on what you count as France. If you add the territories in the Caribbean, the Indian Ocean or Polynesia, which are dependent on France, you get 12 different time zones. Together with the uninhabited territories in Antarctica, there are 13. However, the European part of France - the actual country - has only one time zone. This is the Central European Time. This time zone also applies to the French Mediterranean island of Corsica.
Daylight Saving Time in France
Like almost the rest of Europe, France changes from standard time (UTC+1) to daylight saving time (UTC+2) in the summer half-year and then back again. This happens all over Europe at the same moment: in the night of the last Sunday in March and October. The French have known this procedure - with several interruptions - since 1916.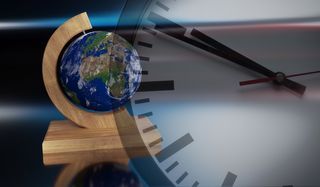 The next clock changes in France
| Date | Local time | Change |
| --- | --- | --- |
| Mar 26, 2023 | 2:00 am | +1 hour to daylight saving time |
| Oct 29, 2023 | 3:00 am | -1 hour to standard time |
| Mar 31, 2024 | 2:00 am | +1 hour to daylight saving time |
| Oct 27, 2024 | 3:00 am | -1 hour to standard time |
| Mar 30, 2025 | 2:00 am | +1 hour to daylight saving time |
| Oct 26, 2025 | 3:00 am | -1 hour to standard time |
| Mar 29, 2026 | 2:00 am | +1 hour to daylight saving time |
| Oct 25, 2026 | 3:00 am | -1 hour to standard time |
| Mar 28, 2027 | 2:00 am | +1 hour to daylight saving time |