Åland Islands
Autonomous region of Finland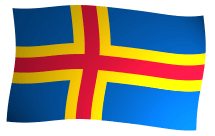 Region:
Northern Europe
Area:
1,580 km²
Further names:
Landskapet Åland
Local name:
Ahvenanmaa
Capital:
Mariehamn
Geography
The Åland Islands are a group of islands on the Gulf of Bothnia between Sweden and Finland. The small state has a total area of 1,580 km². This area is about 1.2 times the size of Los Angeles. The island group consists of 6,757 smaller and mostly uninhabited islands. The Åland Islands have no direct neighbours. The distance between New York City and the Capital Mariehamn is about 6,380 km.



On further pages:
Currency
The currency on the Åland Islands is
Euro (EUR).
1 Euro is divided into 100 Cent.
Status: 03/04/2021
1 US Dollar = 0.83 Euro
1 Euro = 1.21 US Dollar
The climate on the Åland Islands
The country is much further away from the equator than Central Europe. This means that the winter days on the Åland Islands are much darker, colder and also shorter. The country is under cold polar climate. Depending on the season, the average daytime temperatures range between -4 and 16 degrees. In the colder months and depending in the region, the temperature lowers down to -9°C in a month's average.
Average daytime and nighttime temperatures

Languages
Official language:
Swedish
Religions
| Branch | distribution |
| --- | --- |
| Lutherans | 78.3% |
| Greek Orthodoxes | 0.3% |
| Roman Catholics | 0.3% |
| Jehovah's Witnesses | 0.2% |
| nondenominational | 20.5% |
| other | 0.4% |
Land use
| | |
| --- | --- |
| 13% Agricultural areas: | 202 km² |
| 57% Forest: | 900 km² |
| 2% Water areas: | 28 km² |
| 28% Others: | 450 km² |
Transport
Country status Åland
Åland is an autonomous island province of Finland, between Finland and Sweden. As such, it is partly dependent on Finland, but is largely self-governing. Since the Middle Ages the Åland Islands were Swedish and became part of the Russian Tsarist Empire in 1809. In 1921 and the region was granted to Finland under a demilitarized status. In the course of the 20th century there were numerous conflicts over the assignment of Åland to Finland and Sweden respectively.
The country's own flag is based on the Swedish past. Politically, too, Åland is predominantly oriented towards Sweden. Due to the dependency relationship, the inhabitants of Åland also participate in the elections of the Finnish parliament and its president. They also have Finnish citizenship, which is supplemented by a "right of residence" in Åland. This right of citizenship does not have the status of a second citizenship, but it does have functions.
Åland has its own national flag, license plates that differ from those of Finland, but currently still uses the Finnish telephone area code. The only official language of the country is Swedish. The Åland parliament has been freely elected since 1922, and the national holiday on June 9 dates back to the country's first plenary session.
Most important cities